NEWS&COLUMN
Introducing news and columns from ROKKONOMAD
2021.11.24
Series: Mountains and Work Vol.3 Artist: Nao Matsumoto "On the Mountain a Place for Inner Focus
COLUMN / MOUNTAIN and WORK
This is the third in a series of articles in which we discuss the future of "mountains and work" through conversations with people who have stayed at ROKKONOMAD. This time we welcome the artist Nao Matsumoto.
Nao is an artist who has exhibited mainly paintings in group shows at the Museum of Contemporary Art Tokyo and solo shows at galleries in Tokyo and Kyoto. She usually works at her studio in Nishinomiya City, Hyogo Prefecture, but this summer she applied for ROKKONOMAD's residency program and spent two weeks working on the mountain.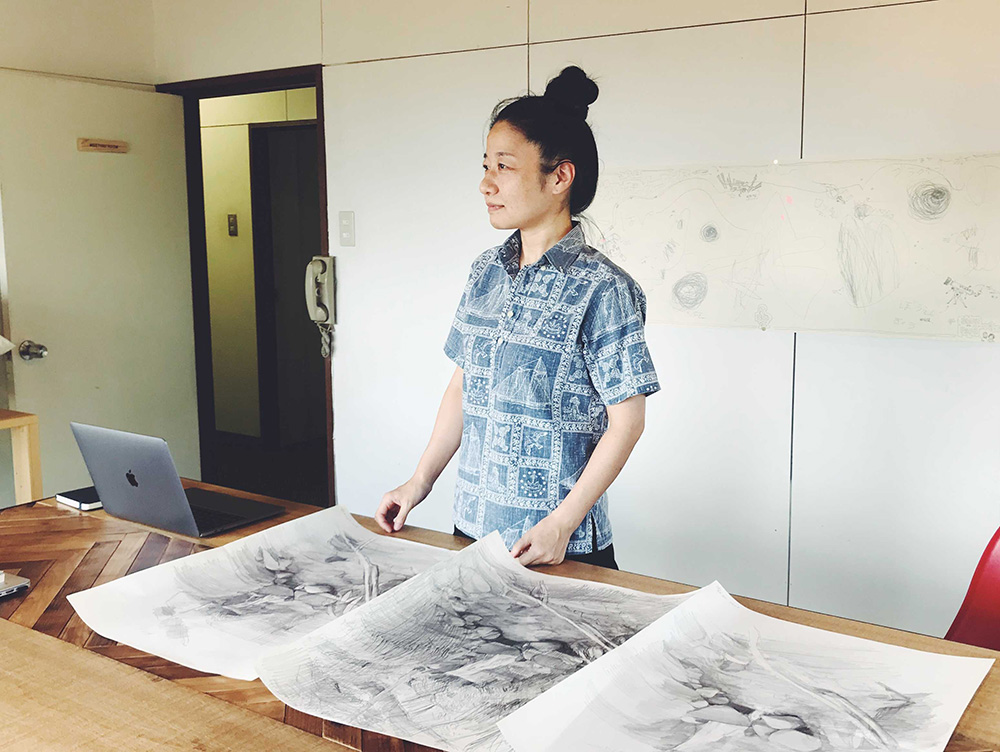 ――Why did you decide to apply for the residency program?
I teach art and design at a university, and it's hard for me to concentrate on my work during the semester. That's why the summer vacation at the university is such an important time for me. Just as I was thinking that I wanted to use that time to concentrate on my work, I found out about ROKKONOMAD. I thought I would be able to devote myself more to my work by taking the plunge and separating myself from everyday life. Also, I was hesitant to move around in the midst of the spread of the new coronavirus, so I thought it would be a good choice in that sense as well, since there would be fewer people on Mt. Rokko than there are in the city.
――Did you find it easy to concentrate on the mountain?  
Yes. Surprisingly so actually. In my case, I mainly used ROKKONOMAD as a base camp to go out and draw in nature, which was comfortable in itself, and another thing I discovered was that being on the mountain naturally made me want to look back at my past work and put it together. I had never done that before. I've been thinking that I should do that for a while now, but I had been putting it off. Here, I was given the opportunity to stop and take a bird's eye view of my work.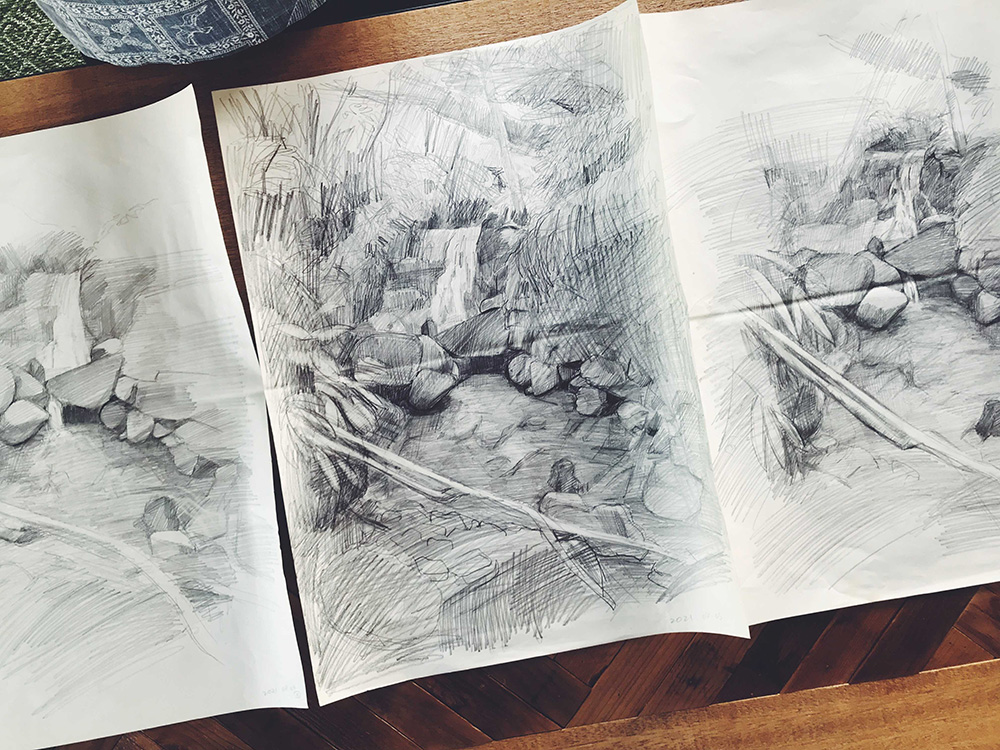 ――Can you tell us what a typical day was like for you during your stay?
On sunny days, I would wake up around 5am, when the others were still sleeping, make a cup of coffee, drink it, and then go out to paint. I carried a carton (drawing board), painting materials, a lunch box and a water bottle. Immediately after I started my stay, I walked around the area several times and decided on which spots I wanted to paint. So I just went to those places and worked hard on my sketches. Once I started drawing, I could concentrate very well, but I could only last for about three hours. So I worked hard until about noon, ate lunch, and then went trekking in the mountains to exercise my body before coming back in the evening. After that, as I said before, I worked on systematically compiling my past works on the PC. Then I would have dinner and go to bed. That was my daily routine.
――This time you decided to paint a "mountain stream" and chose the location, why?
I usually express myself through the theme of "mythology." While researching the relationship between Mt. Rokko and mythology, I came across keywords such as "water" and "purification." There is a shrine called Rokko Hime Shrine on Mt. Rokko, whose deity is a huge stone and she is also said to be the goddess of water. She is the deity of Mt. Rokko, connected to blessing the water, such as Miyamizu, the underground water from the Rokko mountain range used by Nada's sake breweries, for brewing sake, and Kobe Water, the drinking water source from Nunobiki Falls.
In the past, people created myths as they tried to grasp the relationship between themselves and the overwhelming nature. The reason why I, a modern person, decided to face the water of this mountain through the act of researching and drawing myths is because I have a fundamental desire to know things properly again in my own way. With this in mind, I gazed at the mountain streams and drew many, many sketches.
I am a painter, but I think that I am trying to understand the world in my own way, with my eyes and hands, in a way that is different from science. I think of my work as a way to confront the overwhelming and unknowable, and to share it with others after creating it in my own way.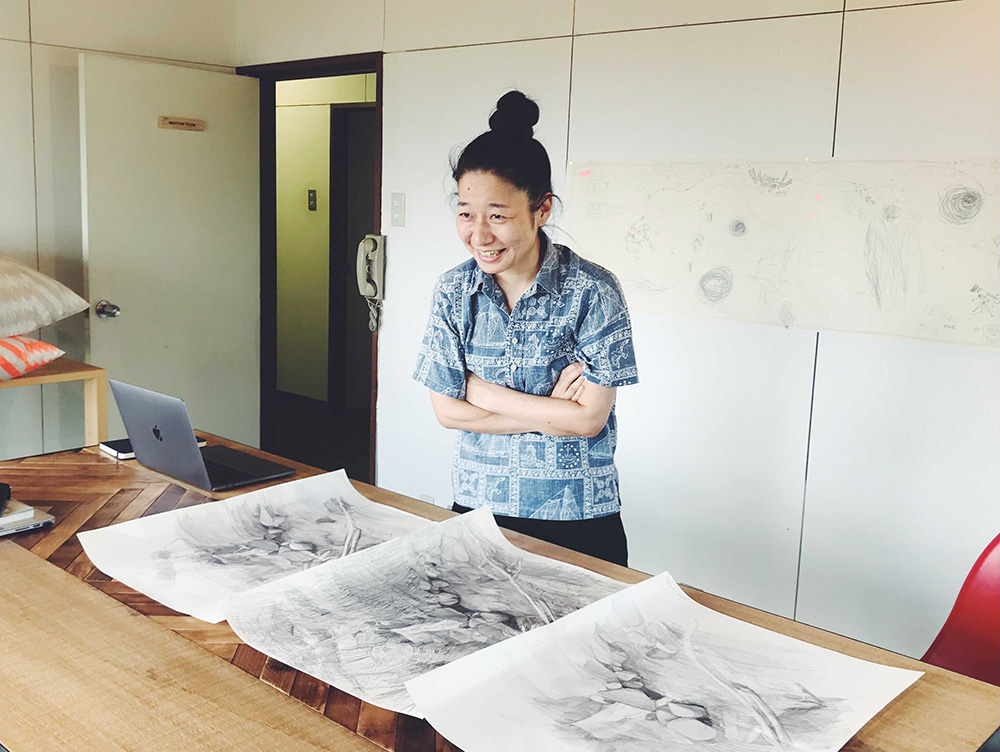 ――I heard that you are going to have an exhibition at ROKKONOMAD when the work is completed.
Yes, thanks to the kindness of the people at ROKKONOMAD, I've been invited to exhibit in this space on the mountain. I like to exhibit in white cubes* of museums and galleries, but I also love to hang my works in spaces like this, where there is life going on. Also as I said, this residency was a good opportunity for me to take a bird's eye view of my work, and I think the exhibition will also be a chance for me to reconfirm my current position.
※*White Cube …… Refers to an exhibition space for artworks in which the ceiling and walls are painted pure white, as seen in museums and galleries. The first to introduce this style was the Museum of Modern Art in New York in the 1930s.
――Now you are back at your studio in Nishinomiya putting the final touches on your work, is your state of mind different from when you were working on the mountain?
That's right. When I was on the mountain, because it's an unusual place, I could easily get into a state of concentration without being disturbed by unnecessary things. Now that I am back here, it's a place that's at one with my daily life, and it's hard to switch off unless I really try. I divide my time between drawing on the mountain and completing my work here in the main studio. It's a difficult and serious process. Once I get my mind in the right frame, I get better, but I spend a lot of time idling. I guess that's where it differs from being on the mountain (laughs).
★Exhibition Information★
November 5 – 14, 2021 at ROKKONOMAD
Artist Hisashi Matsumoto's solo exhibition「記憶の焦点 / Focus of memory」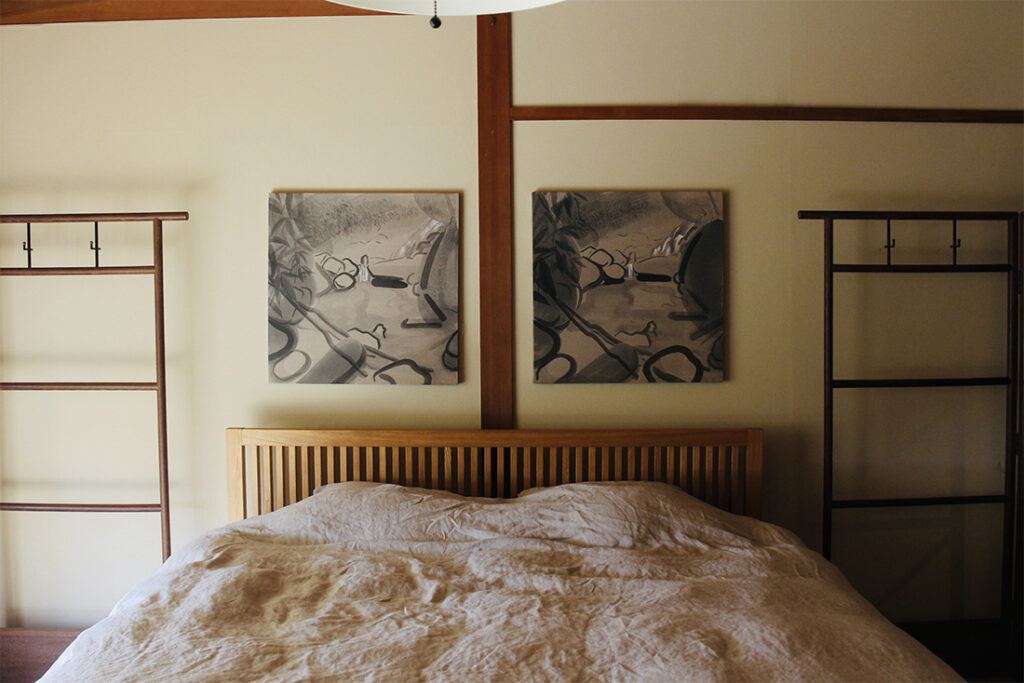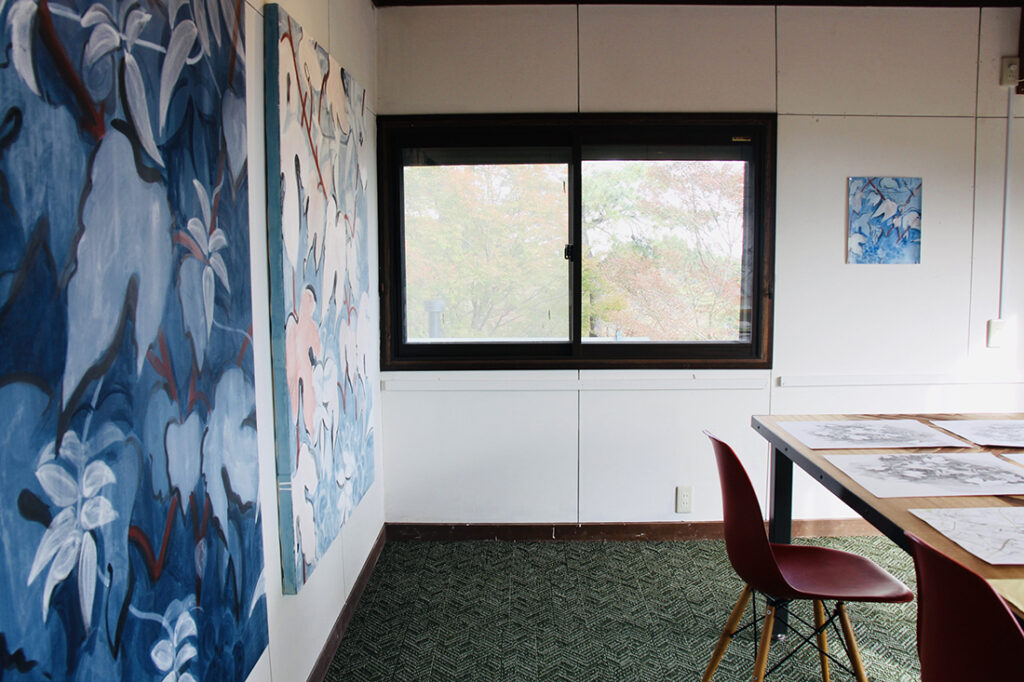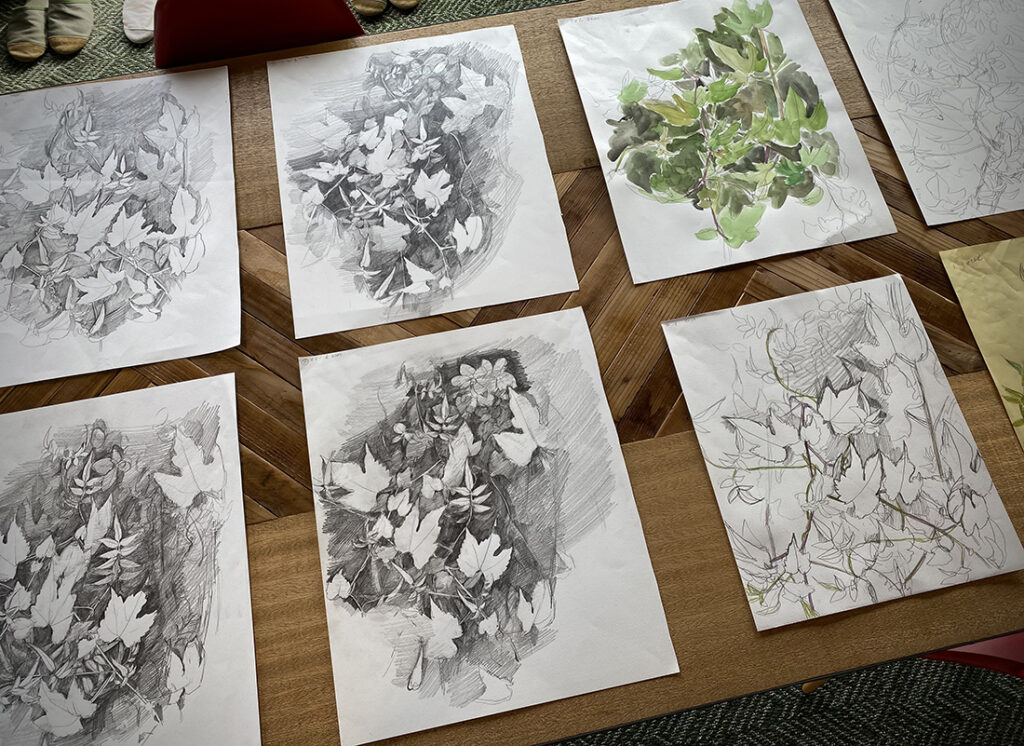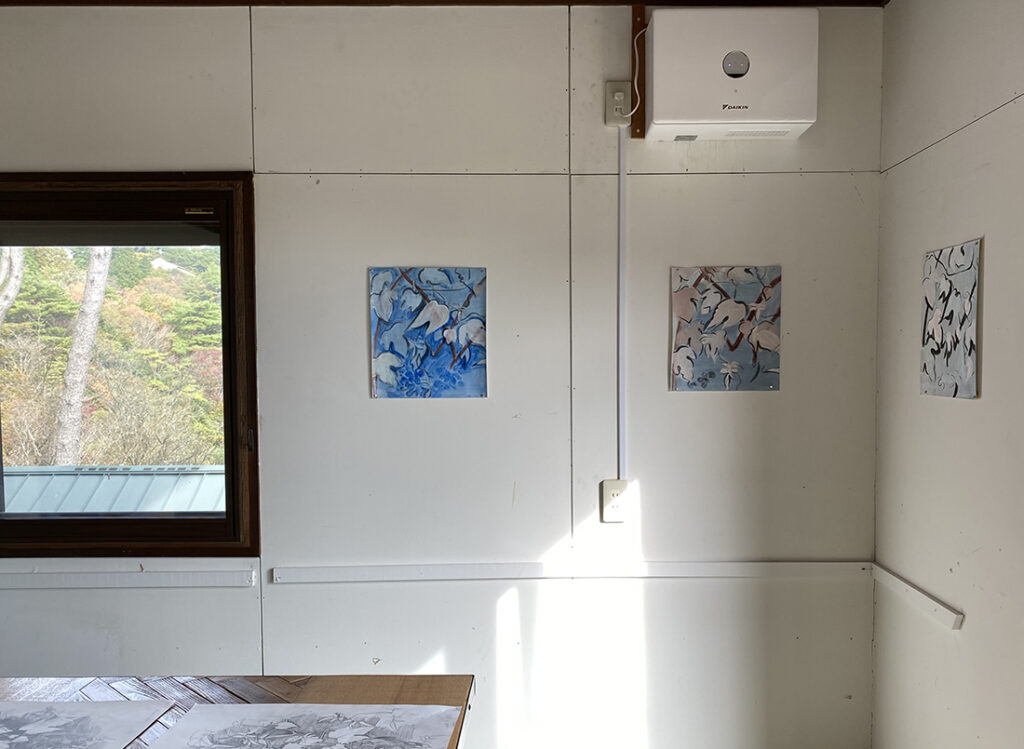 Profile of Nao Matsumoto
Born in 1975 in Hyogo Prefecture. Completed a master's course in visual design at Kyoto City University of Arts in 2000. Selected Exhibitions: "Uzumaki" (SCAI X SCAI, Tokyo, 2008), "SENJIRU-infusion" Galerie Kashya Hildebrand, Zurich, Switzerland (2010), "MOT Annual 2010: Decoration" (Museum of Contemporary Art Tokyo, Tokyo, 2010), "Kawagoe: Kawagoe: Kira Kira Hikaru" (curated by Yuko Hasegawa, Kawagoe City Kurazukuri Museum, Saitama), "Katana no Uta" (Art Space Niji, Kyoto), and others. Other participating projects: "Genbi Shinkansen: GENBI SHINKANSEN", the "APartMENT 8artist Renovation Project" (both 2016), and others.
Nao Matsumoto Website
(Column written by Yohei Yasuda)