NEWS&COLUMN
Introducing news and columns from ROKKONOMAD
2022.08.18
Series: Mountains and Work Vol.9 Mauro Iurato: "The Mountain Top is a Place for Artists
COLUMN / MOUNTAIN and WORK
Mauro Iurato, a violinist from Turin, Italy, has had his home and music school in Kitano, Kobe since 2009, and last December, he moved his base to Rokkosan. In May this year, he opened "Harmonia KOBE Rokkosan Forest Stage," an outdoor stage for concerts and other events in the rich forests of Rokkosan, where concerts can be held in the forest. Why do musicians use the mountains as their base? We asked him about his motivation and vision.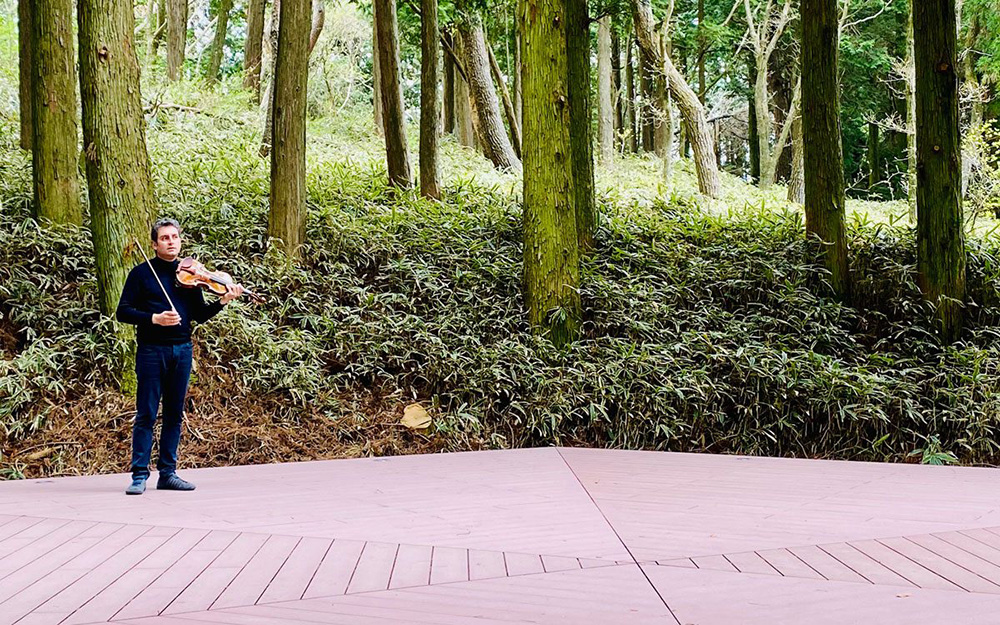 — Is your base of living also in Rokkosan now?
I have moved completely. I still have two lesson studios in Kitano where I teach violin and piano to my students, but I run my daily life here.
— How did you get connected with Rokkosan?
It was during the pandemic of the new coronavirus that I became aware of the need to once again confront the relationship between nature and music. I was invited to perform in the forest on Rokkosan as part of Kobe City's "STAY HOME: For the Future of Kobe" project, and I was able to stream the performance. During this period, my wife and I and our children also had school holidays because of the virus, so we spent 6 to 7 hours hiking around in the Rokko Mountains every day. We started talking about how nice it would be to have a house on Rokkosan, and we were lucky enough to find this land.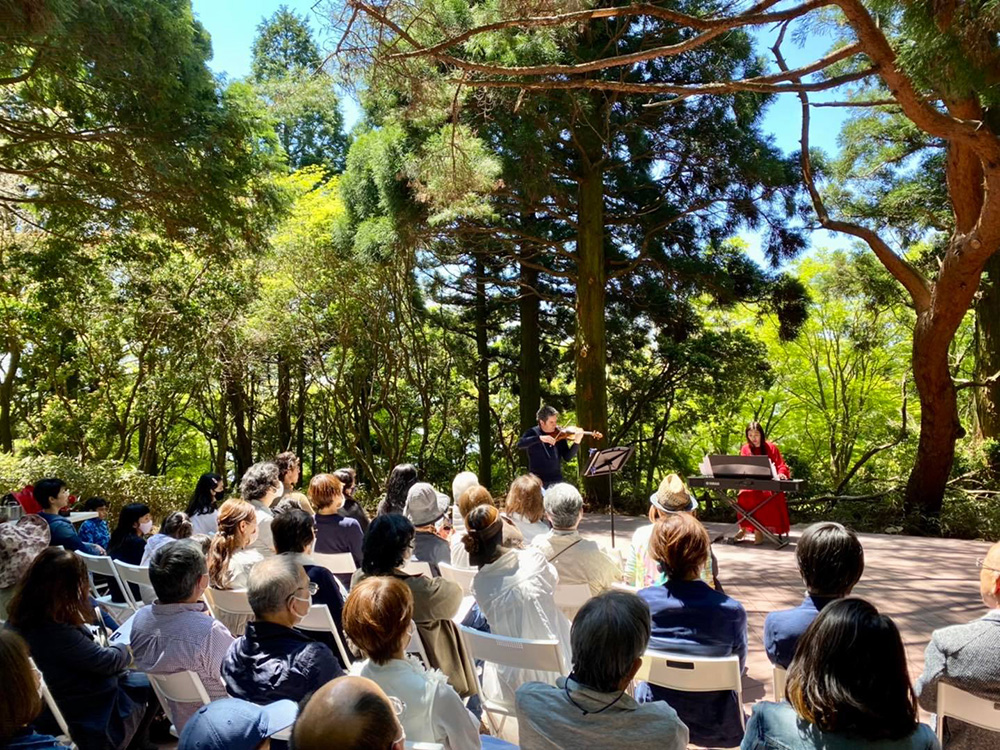 — I have the impression that musicians prefer the indoor spaces of cities where the air conditioning and acoustics are more stable, but I'm not so sure.
I think many young people today only know about cities, but music originally comes from nature. Music is made with things given to us by nature, and even violins have a great connection they received from trees. I think that being in nature can bring back our senses, and that's why we built this outdoor stage.
— What kind of activities do you have in mind for the mountain?
We have many ideas. It is difficult to hold activities on Rokkosan from the end of November to the end of February, but it is possible to hold events from March through until autumn, so we would like to hold classical concerts on the outdoor stage during that period. In fact, I would like to organize a small music festival on the Rokkosan. I would be very happy if we could create a network among the bases on the mountain, for example, in cooperation with ROKKONOMAD, Rokkosan Silence Resort and Kaze no Kikai (Church of the Wind).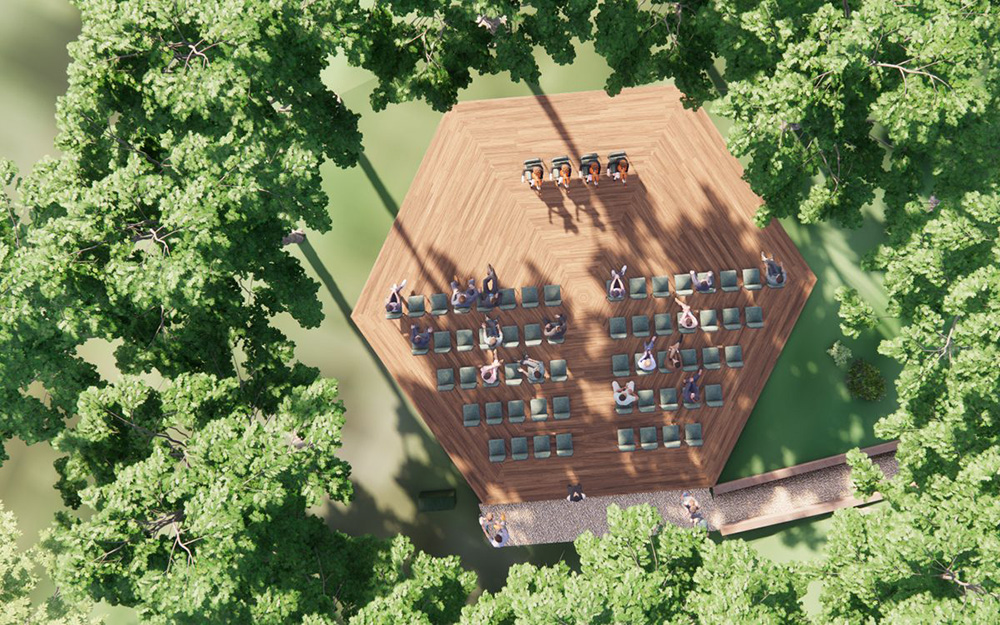 — When the forest stage was open in May there was an opening ceremony and classical concert, what kind of use do you plan to make of this outdoor stage in the future?
We were actually going to have another violin concert here today, but we had to postpone it because the humidity was over 80. It's a very unusual year to have this kind of humidity after the rainy season, but we hope to be able to hold it in August. Also, this stage was not created just for classical music. We've already received applications to use it for yoga lessons and guitar duo gigs, and we envision it being used for a variety of purposes by many different people. Although it's in the middle of the forest, we have 100 and 200V power, and we're able to light up the stage at night.
I designed the stage as a hexagonal shape, and with this, the layout can be flexibly changed so that the performers are in the middle and the audience is around them.
— I think humidity is a great enemy for musicians, especially for those who play live instruments like Mauro, so I wonder if it is OK on the top of Rokkosan.
Of course, instruments are very delicate and humidity control is one of the most important points. But even on the Rokkosan, the humidity is generally fine, except during the rainy season and summer, when it can be up to 70. Over 80 is not good, so I immediately turn on the dehumidifier.
As for the house, it has been completely renovated, and the humidity has been fully taken into account. For example, the ceilings are all plaster because that helps to regulate humidity.
— "Harmonia Kobe," which is run by Mauro, offers a classical music school focusing on violin, cello, piano, flute, etc. Will you be offering a school in Rokkosan in the future?
In Kitano, the school focuses on regular courses, but on Rokkosan we are now limiting our classes to master classes. We have a famous violinist from Italy, who used to be a soloist with the I Musici Ensemble, and he is giving special lessons.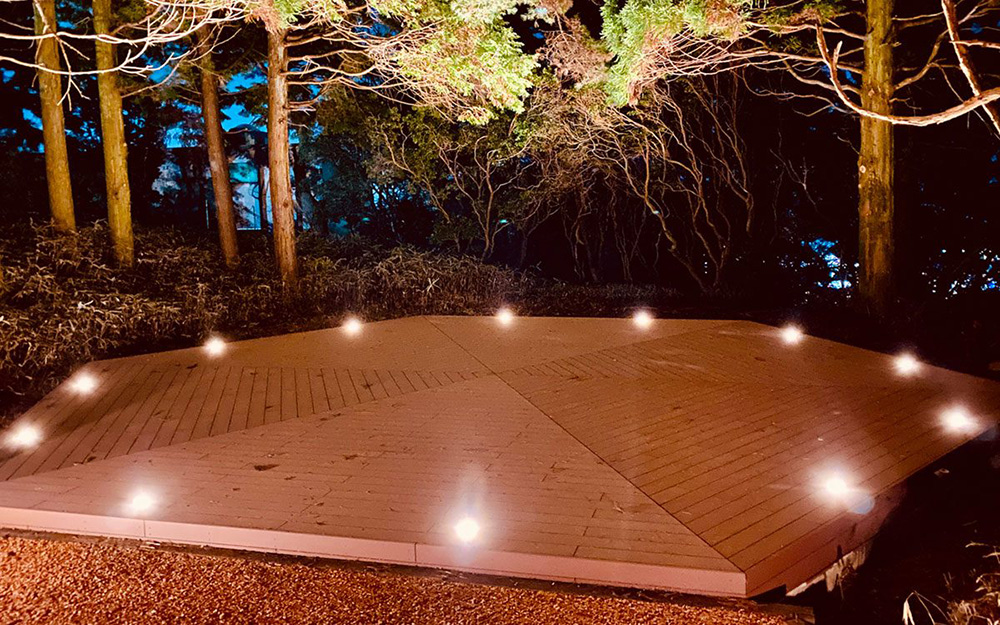 — The mountain top looks like a wonderful place to practice music.
Yes, it is easier to concentrate and relax in nature, which is a plus. There are no unnecessary sounds like in the city. Above all, the energy that is cultivated is different. Spring, summer, autumn, winter……, every single one of them is very important for music, and every single day has its own moment here that is not the same as any other day. Also, playing music is physically and mentally demanding, so you really need this kind of environment where you can recover and sharpen your skills. I think the top of the mountain is a perfect place for artists.
— Is there anything that you find frustrating or inconvenient about this place?For example, cell phone reception is a bit poor ……?
I think our modern communication using mobile phones is a bit addictive, so it would be good to be free from it at least on the top of the mountain. However, the Internet is very important for meetings, distribution and other activities, and there is no problem at all on the Rokko Mountain because there are fiber-optic cables.
— You are from Turin, Italy. Does the environment of Rokkosan have any similarities with your hometown?
The natural environment is similar. Turin is also surrounded by mountains, and when I was a child I used to go to the mountains every weekend. My uncle is a mountain climber and we used to go climbing together. My mother was born in Turin and my father was from southern Italy, so I also love the sea. Turin has no sea, and that was the only thing I was dissatisfied with. Kobe is perfect because it's close to both the mountains and the sea (laughs).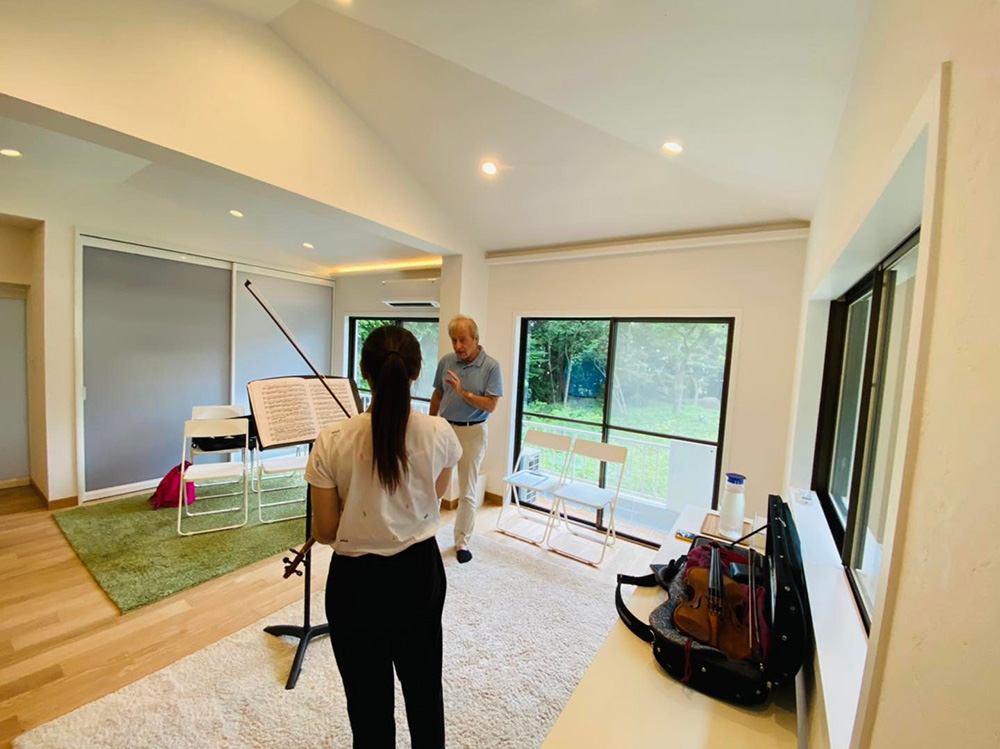 — How long have you been in Japan, Mauro?
I originally came to Japan in 2003 when I was invited to the Violin Department of Tokushima Bunri University Music School as a visiting associate professor from the University of Music and Performing Arts Vienna. In 2009, I moved to Kitano, Kobe, and have lived in Kobe ever since. I have been living in Japan for 19 and a half years now. I chose Kitano because an Italian friend recommended it to me, but Kobe is really cosmopolitan (Note 1). I don't feel any stress because there are no lines between foreigners and Japanese in this area. Above all, the proximity to the sea and the mountains is wonderful.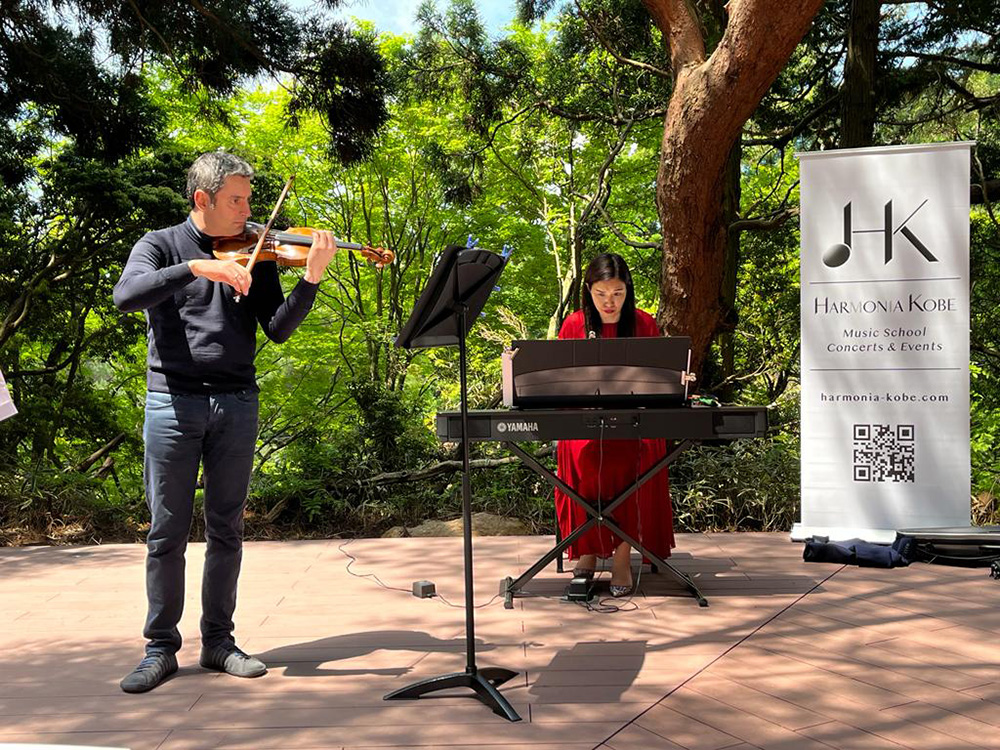 I have been advised many times that I need to go to Tokyo to become famous as a musician, but for me, the environment in Kobe is better. Kobe has a convenient transportation network with airplanes and bullet trains, so people come from Tokyo, Hokkaido, Kyushu, and many other cities to attend my school.
I would like to invite more famous musicians to the top of Rokkosan, and I would also like to realize a music festival and create an environment on the mountain that attracts visitors not only from Kobe but also from other cities.
Note 1: …… refers to being international and not restricted by nationality, ethnicity, etc.
*Photos provided by HARMONIA KOBE (all photos in the article)
Mauro Iurato Profile
After graduating from the G. Verdi Conservatory in Turin with the highest honors one year early, he studied with C. Romano, F. Gulli, S. Accardo, and others. He studied at the University of Music and Performing Arts Vienna under the direction of Prof. M. Fritschenschlager, and came to Japan as a dispatched associate professor for a project of the same university. He has appeared as guest concertmaster for many prominent orchestras including the Osaka Philharmonic, PAC, and Ensemble Kanazawa. Established Harmonia KOBE, Inc. as a representative of Harmonia KOBE Music School, providing world-class music education. He has received numerous awards for excellence in teaching from various competitions. He also teaches regularly at master courses abroad, including at the Mozarteum University (SOAK). He is also a lecturer at Souai University and Hyogo Prefectural Nagoya University.Since July 2022 he was appointed as Music Producer for the Kobe City Chuo Ward Cultural Center.
HARMONIA KOBE Website
(Column written by Yohei Yasuda)