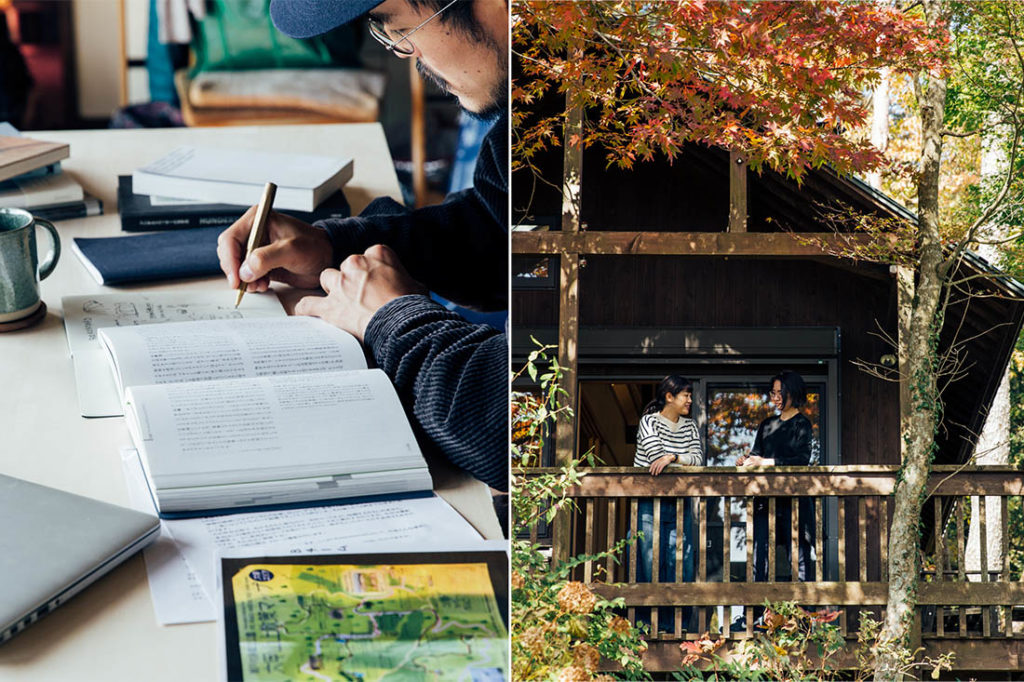 When one needs to concentrate on a task, how about retreating to the forest, where the air is clear and clean and the silence is unmatched in the city? Wake up in the morning and take a walk in the mountains. Make a cup of coffee, have a little quiet time, and then start the day's work. One can work calmly and at a distance from the speed of the city. (If there is something one must do in town, access to the city in about 30 mins to 1 hour. Best of both worldsl)
ROKKONOMAD offers a "work-in-residence" program where creative people can stay for two to four weeks in a private room and concentrate on their work. How about sleeping and waking up in a quiet space in the mountains to concentrate on your work? We have a workroom where you can concentrate on your work, a living room where you can relax, and other facilities you need to hunker down and get things done. If you get stuck on a project, take a hike in the mountains or go into town for a change of scenery.
In order to use this program, when you apply you will need to declare to the staff the purpose of use and the contents of what you will be producing during your stay. There will also be a contract to sign after the screening process is complete. This process is similar to that for other ROKKONAMAD members.
facility
Bath and toilet: Shared
Kitchen: shared
Workspace: Yes
Fiber Optic Internet: Yes
target group
There is no strict definition of what type of creator can apply, but since we do not have a large workshop facility, we believe that the following people are suitable for our project. Novelists, poets, playwrights, translators, photographers, architects, filmmakers, desk-bound sculptors, composers, sound artists, app designers, illustrators, designers, cooks, etc.
Apply for the free fellowship program
Those who wish to use the program are required to apply and undergo a preliminary screening, and those who pass the screening are eligible to receive support for their stay under the "Work-in-Residence" program. For more information about the application process, please contact us.
Overview
We will support the cost of accommodation during your stay (2-4 weeks). (Transportation and food expenses are excluded.)
In addition, ROKKONOMAD's Residence Manager will follow up on your stay and support you in creating an environment where you can immerse yourself in your creative activities and work, as well as introduce you to local people to help you build your network in Kobe.
Application Requirements
・The activities to be performed during the period of stay must be clear.
・Submit a work/production schedule for the duration of your stay.
・The content of the proposed activities during the stay must be distinctive.
About screening
Please note that we do not disclose the reasons for the screening results.
Application Period
April 2022 to March 2023
additional
You will be asked to submit a questionnaire report on how you spent your time at ROKKONOMAD and what you thought about your stay.
Contact Us
IIf you are interested in our long-term residency program or fellowship, please contact us using the inquiry form below.