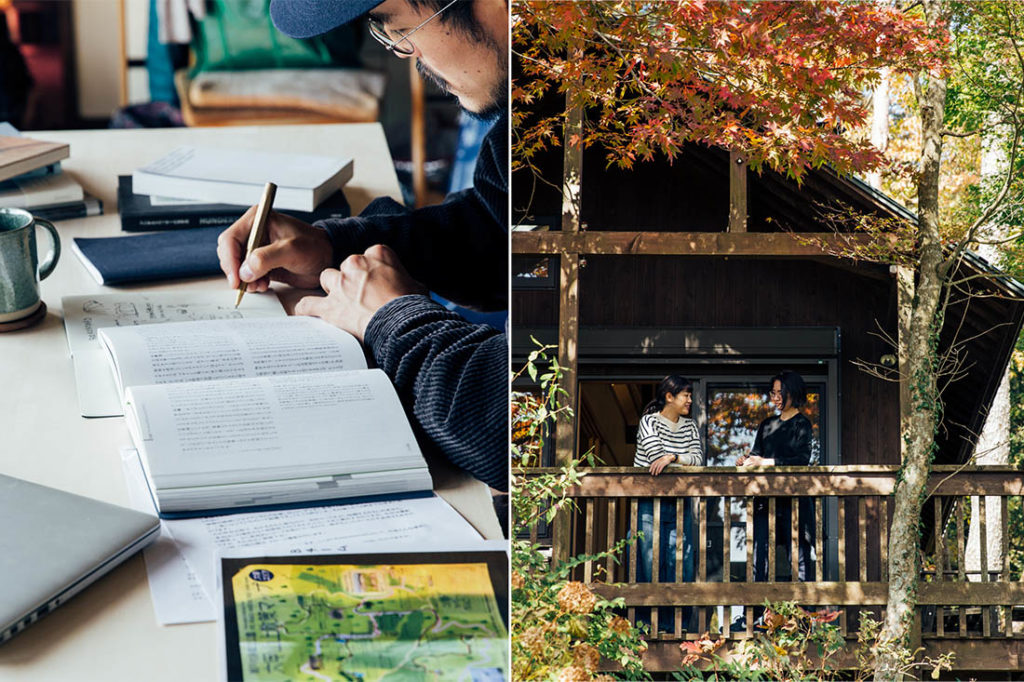 When you have a task you want to concentrate on, why not stay in the forest with clean, clear air and a tranquility not found in the city? Wake up in the morning and take a walk in the mountains. Make some coffee, give yourself some quiet time, and then start your day's work. You can work calmly while keeping away from the hustle of the city. (If you have something you need to do, you can easily access the city in about 30 minutes. Wisely use your time.)
Work in Residence
At ROKKONOMAD, we have prepared a "work-in-residence" program for creative people for them to stay in a private room or dormitory for 2 to 4 weeks so that they can concentrate on their projects. How does it sound to wake up in a quiet space in the mountains, and be able to concentrate on your work? There are facilities necessary for staying, such as a communal work space, a kitchen where you can cook freely, and a living room where you can relax. Once you have sorted your thoughts, it's good to take a walk in the mountains or ride a bicycle for a change of pace.
Program Fee (Subject to change)
Two Weeks…Private Room ¥60,000 per person Dormitory ¥35,000 per person
Four Weeks…Private Room ¥100,000 per person Dormitory ¥55,000 per person
*Prices do not include tax.
*At the time of application, the staff may ask about the production content before granting approval. 
Facilities
Shared Bath, Toilet
Shared Kitchen
Communal Work Space
Workspace
High Speed Internet
Image
There is no strict definition of what a creator is, since there are no large workshop facilities, we think the space is suitable for the following types of people.
Novelists, poets, playwrights, translators, photographers, architects, filmmakers, sculptures writers, composers, sound artists, illustrators, designers, chiefs, and others.
Fellowship -Stay Support Program-
This is a program to support people who stay and work at ROKKONOMAD. Those who wish to use this program can apply and undergo a preliminary audition. Those who pass the audition will receive a Fellowship (Stay Support) for the "Work in Residence" program.
Specific details will be announced in the near future.
Overview
We are planning to support accommodation expenses during the stay (2-4 weeks). (Transportation and food expenses will not be supported.)
In addition, ROKKONOMAD's residence manager will follow up with you during your stay and support you in creating an environment so that you can immerse yourself in your production activities and work.
Application Conditions
・Must be 35 years or younger at the start of your stay.
・A clear understanding of the activity contents to be carried out during the period of stay.
・Submit work/production schedules during your stay.
・Interesting or charismatic activity contents.
Application Period
April 2021 to March 2022
Length of Stay
After June of 2021
Requests
・We are asking people to please write and submit a report on how you spent your time and your impressions during your stay at ROKKONOMAD.
・During your stay at ROKKONOMAD, you will be asked to give a presentation about your activities and work.
Contact Us
If you are interested in the long-term stay program and fellowships, please contact us using the contact form below.
The latest information will be announced in the ROKKONOMAD Mail Newsletter as soon as possible. If you are interested, please register from the following link.