NEWS&COLUMN
Introducing news and columns from ROKKONOMAD
2022.03.31
Experiments with Off-Grid Power on the Mountain have Begun.
ACTIVITIES / REPORTS
We have built an off-grid* workroom on the ROKKONOMAD grounds in a joint experiment with Rocket Battery Co.!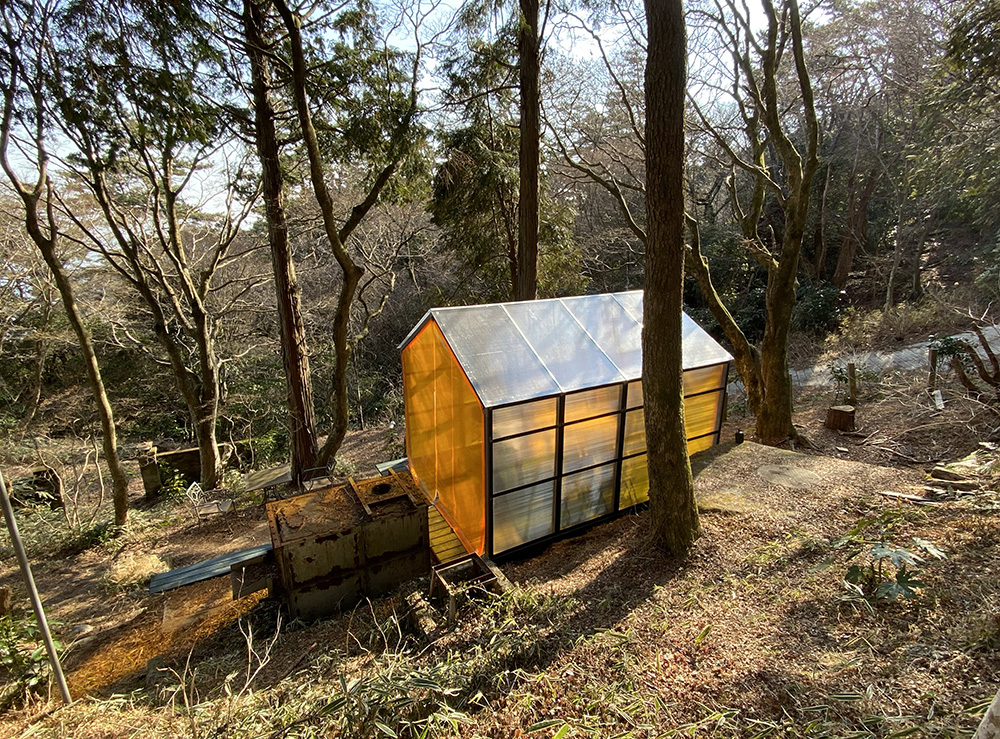 *Off-grid: …… Power without being connected to the normal electric power grid.
An orange hut has been set up among the trees on the ROKKONOMAD grounds. It is a newly created space where meetings can be held in the forest while being bathed in sunlight, and where experiments with off-grid power supply are quietly being conducted.
There are two obvious lifelines that are essential to the modern worker: one is WiFi and the other is a power source. While a mountain top or a remote island can be a very invigorating environment, providing a pleasant change of pace and improving concentration, the ability to use it as a workspace depends upon these factors.
Foreign residents led the way in making Rokkosan part of their living area since the beginning of the Meiji era (1868-1912), so even on the mountain, basic lifelines are in place. Electricity, gas, water, mail, and parcel delivery services are provided in the same way as in the city. There is even a post office. The internet environment was ADSL until a few years ago, but in December 2020, optical fiber connections were started, allowing video chat and the exchange of large amounts of data without any problems, even while being on the mountain.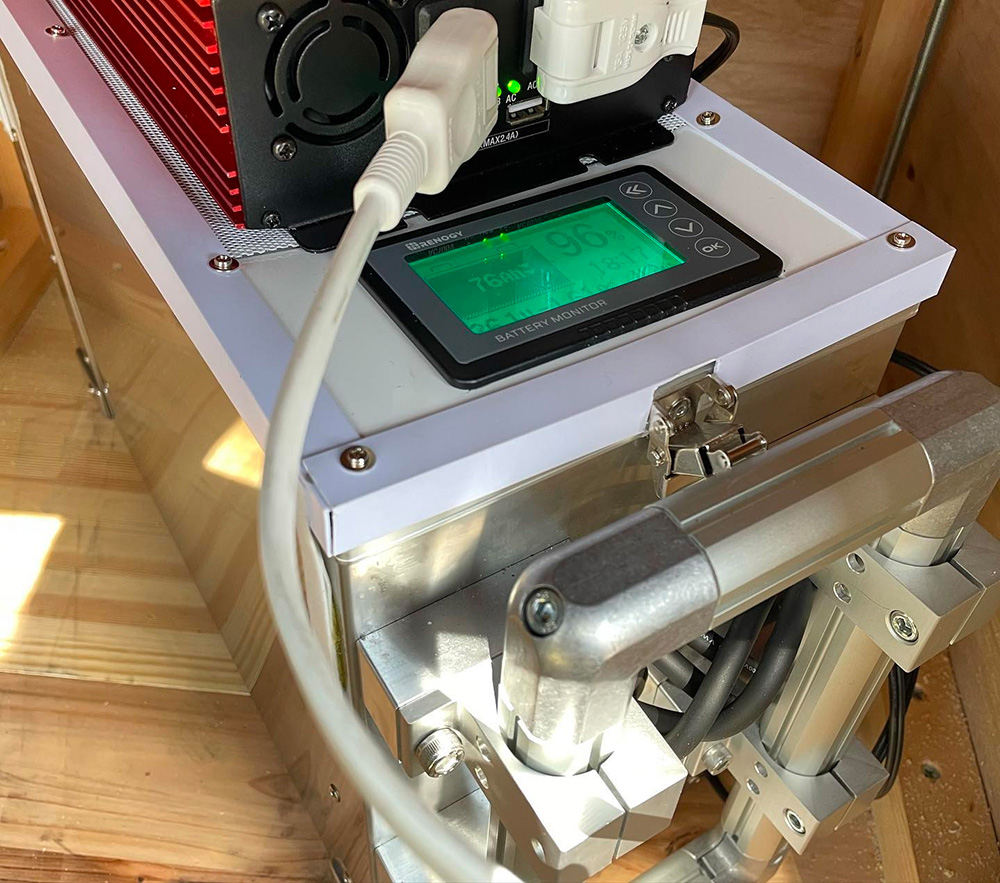 However, one thing we would like to improve environmentally was an emergency power source and portable power supplies. On the mountain, typhoons occasionally cause power outages that can take time to restore. A portable power supply would also make it possible to have power outside the building and work in more natural settings. That is why ROKKONOMAD has started a joint experiment with Rocket Battery Corporation, a startup promoting the use of high-performance lithium-ion batteries. Rocket Battery is developing its own products in collaboration with a Chinese battery brand that manufactures high-quality lithium-ion iron phosphate rechargeable batteries, which are rapidly gaining market share in the battery world. "We are confident in the safety and longevity of these lithium-ion batteries because of the difference in the batteries themselves. We have also been able to achieve a high 3000-5000 charge/discharge cycles," says Hiroshi Kitayama, Rocket Battery's R&D manager.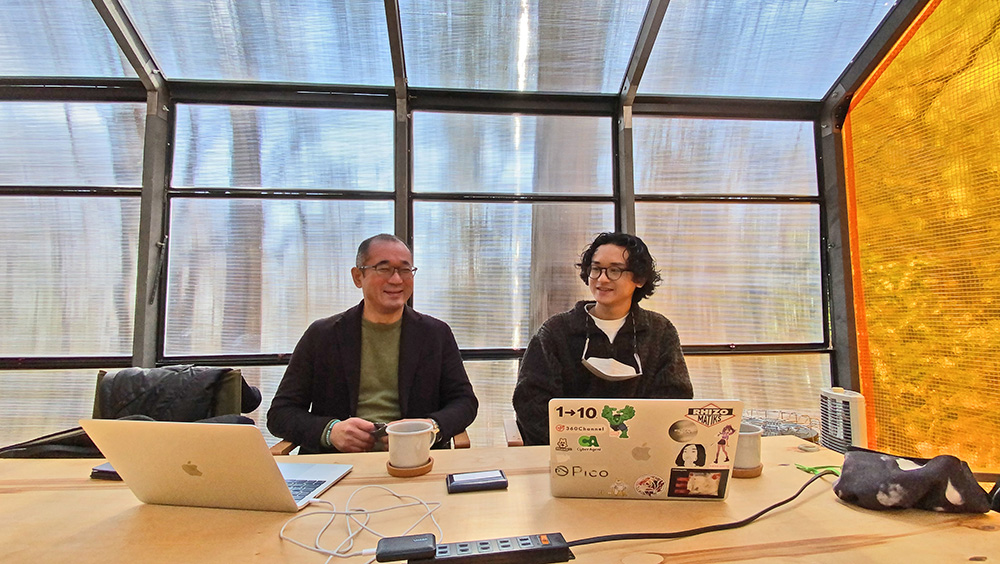 This time, a 2kwh (kilowatt-hour) rechargeable battery* was installed at the ROKKONOMAD's remote location. "Generally speaking, a family of four uses about 10 kwh per day, while a single person uses 2 to 3 kwh. If we refer to the power consumption of electrical products, an electric heater is considered to consume 900-1000w and a microwave oven 500-1000w (*Guideline), so you can use the electric heater in the hut for 2 hours if you leave it on. Since a kettle or microwave are usually only turned on for a few minutes at most, they can be used in combination with each other. Also, since a single battery unit has 2kwh, you can use 4kwh or 6kwh of electricity by connecting multiple batteries together," says Mr. Kitayama.
*wh (watt-hour)…… a unit that indicates the amount of stored electricity that can be used per hour. A 1kwh storage battery can use 1000w electrical products continuously for one hour. 500w products would last for two hours.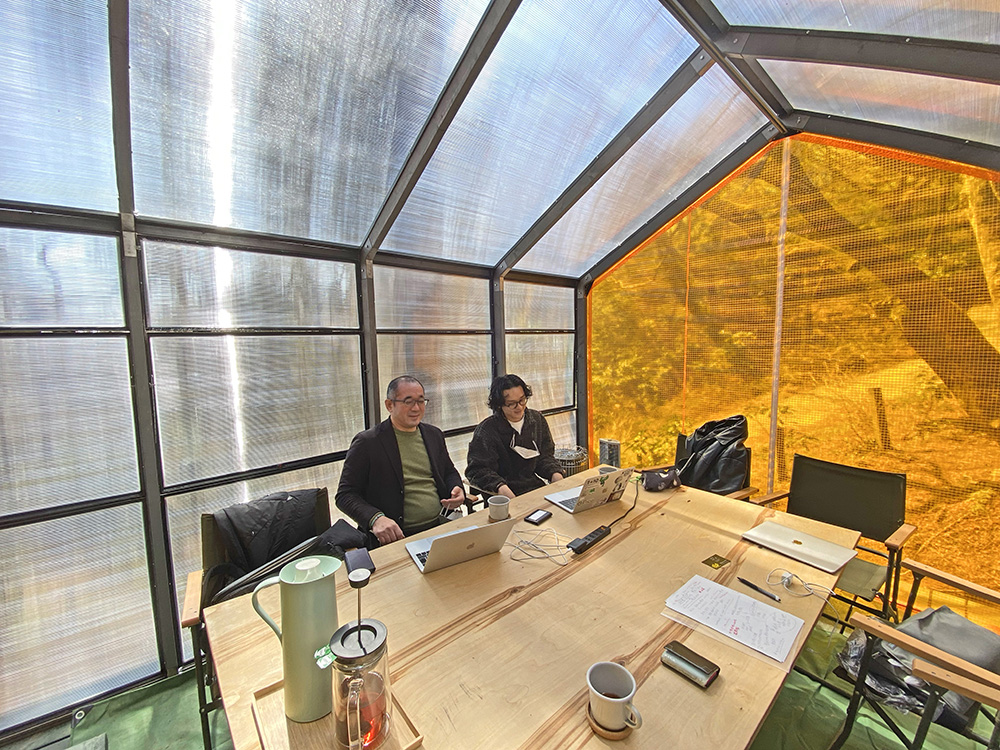 As a matter of fact, we have conducted a joint experiment once before with the folks at Rocket Battery. During the fall festival farmers' market held on the beach at Suma Beach, we set up a shack with solar panels and storage batteries on the beach and stored the electricity generated there in rechargeable batteries to provide the power needed for the event. Like on the mountain, a beach is a difficult location to pull power to, but the three lithium-ion batteries we used were loaded with 2kwh batteries, so there was no problem at all in providing the power needed for the event.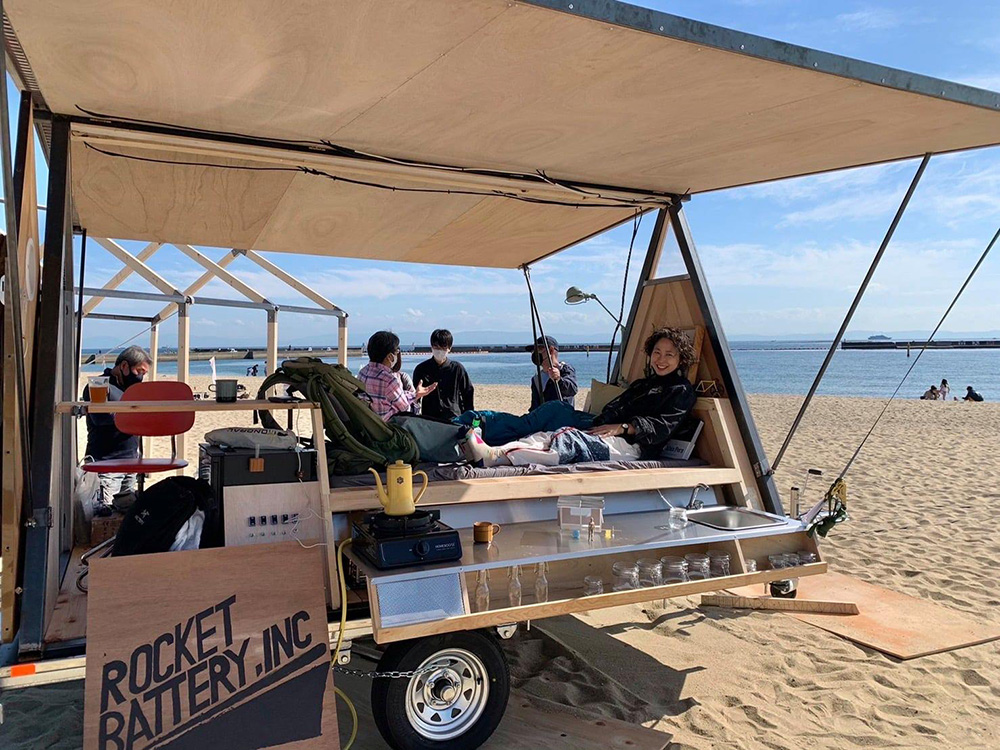 The shed is designed to be towed by a car and can be moved to various locations. As mentioned above, the average daily electricity consumption of a single person is 2 to 3kw, so a single person can sleep and wake up at the location where this vehicle is transported and use electricity for a full day. For example, if the car is placed in a corner of farmland, there is no need to worry about electricity when working in the field using electric farm equipment plugged into the car's outlet, using a refrigerator, or doing office work on a laptop computer, and spending a day in that location.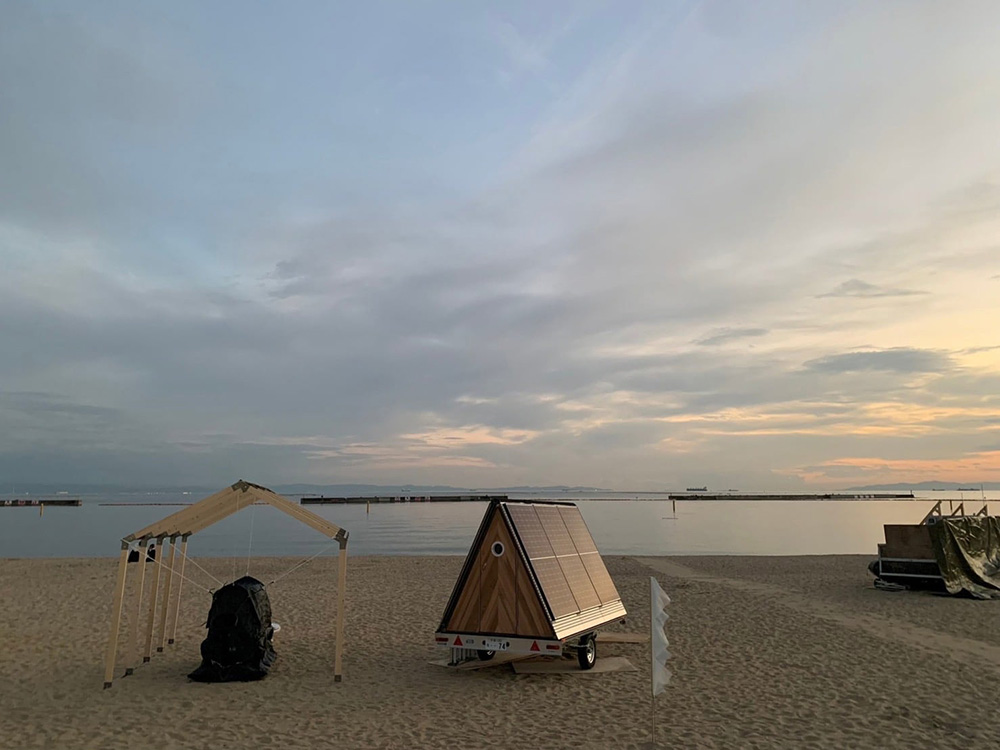 Rocket Battery Inc. was until recently based in an incubation facility established by the UNOPS GIC (United Nations-sponsored incubation facility to support startup companies that aim to create new products and services that contribute to solving SDG issues. It was the first such facility to be established in Asia.) in the Old Settlement Area in Kobe City. Since it is also involved in a project to supply electricity to Rwanda, Africa, utilizing the company's power generation and charging technology, Rocket Battery is also involved in a joint venture called Kivukold Group, which was born out of an economic exchange between Kobe City and Rwanda. The group is taking on the challenge of reducing post-harvest losses in Africa by making it possible to supply electricity to areas without power grids.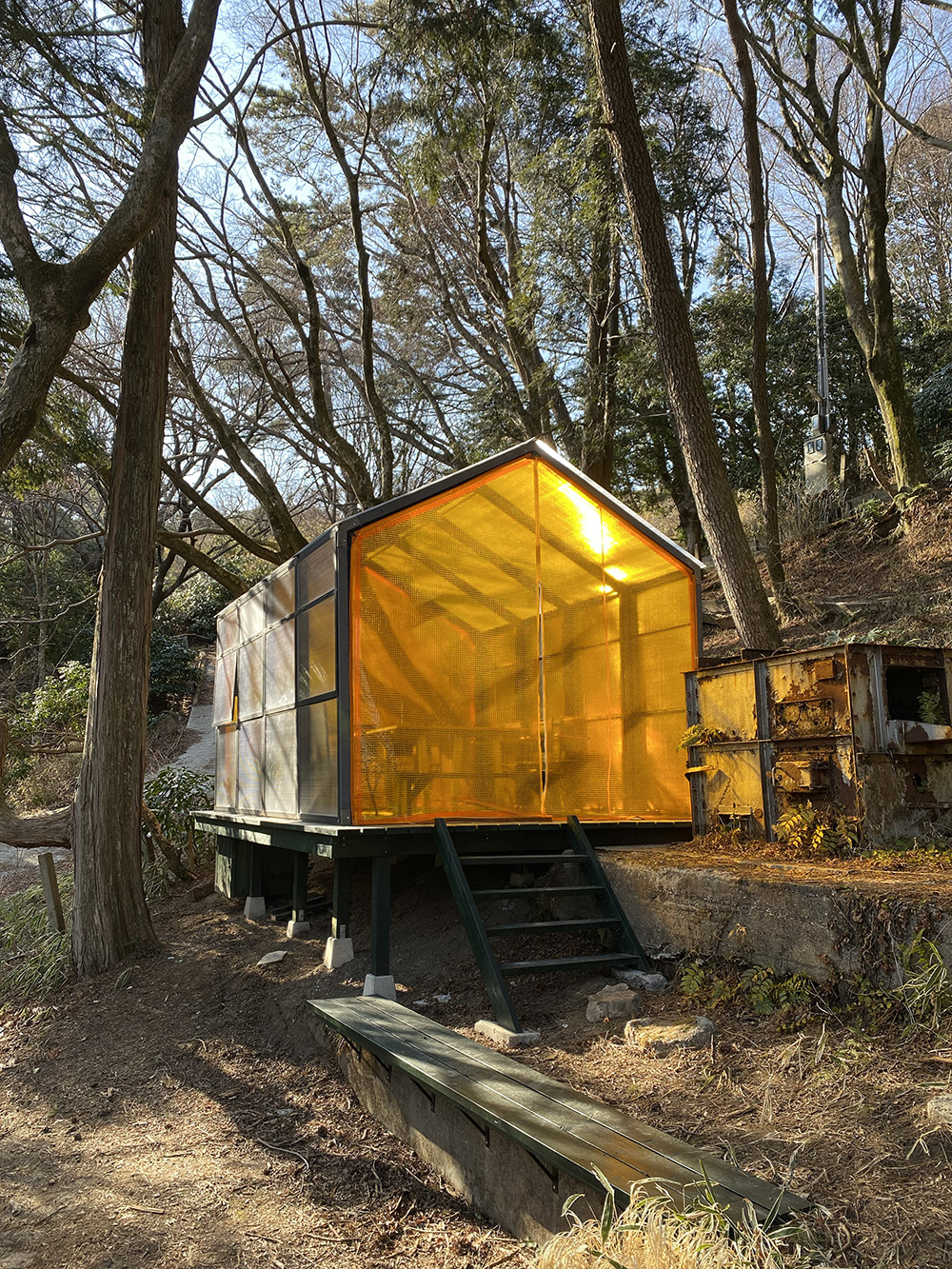 Compared to lead-acid batteries, which have long been used as rechargeable batteries, lithium-ion batteries are lightweight, compact, long-lasting, and boast a low discharge rate. The primary reason for the rapid worldwide shift from lead-acid batteries to lithium-ion batteries in recent years is their low environmental impact. The lead and electrolyte used in lead-acid batteries, when released into the environment, can lead to environmental pollution, and there are also concerns about the effects on the human body. Lead has the advantage of being easily recyclable, so if it is disposed of properly, it may not necessarily increase the burden on the earth, but for the improvement of the environment, waste lead battery disposal has been raised as an issue. On the other hand, one of the disadvantages of lithium-ion batteries is their high price (roughly 100,000 yen per kilowatt), and Rocket Battery is making efforts to reduce the price.
In order for our working locations to become freer, it is essential to be able to provide a comfortable power supply in mountainous areas and remote islands where power grids are inaccessible. Off-grid cabins with portable power supplies that can also be used for emergencies can be successfully produced in local nature parks, which are in need of new proposals for utilization. Glamping and other interesting ways of using outdoor space may become easier to realize. We also hope that the cabins will provide peace of mind in the event of disasters such as earthquakes and typhoons. Towards these goals, we are currently conducting this small experiment on the mountain.
(Column written by Yohei Yasuda)