NEWS&COLUMN
Introducing news and columns from ROKKONOMAD
2022.03.15
Series: Mountains and Work Vol.6 Snow Robin "It is in the frontier that we can deepen our essence as a digital company."
COLUMN / MOUNTAIN and WORK
We interviewed Taro Hirayama, CEO, and Akifumi Hirooka, CBO, of Snow Robin Inc., a one-stop digital services company that handles everything from web, app, and system development to operation.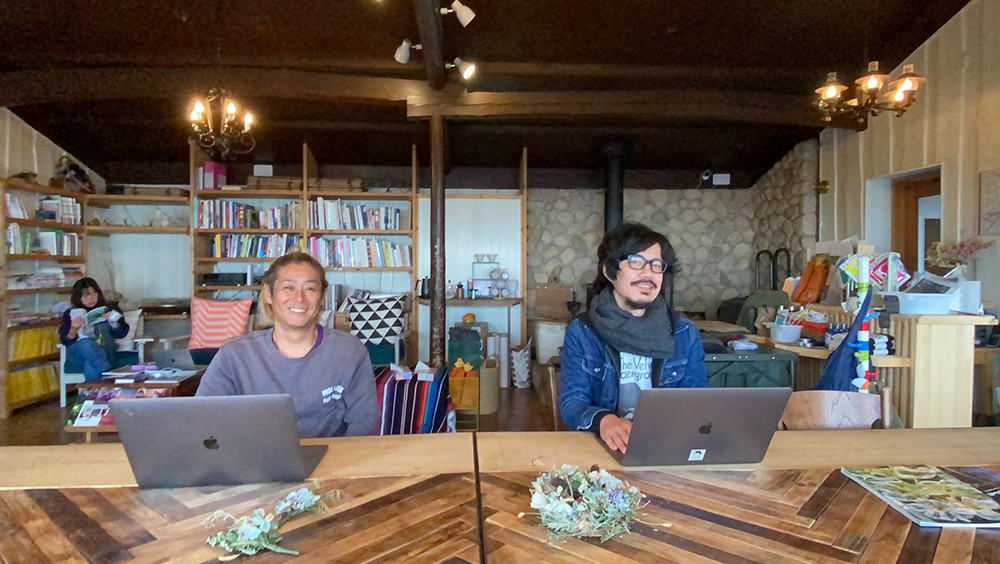 Snow Robin has more than 20 employees and 30 partner-workers, all of whom work remotely. When the company moved into ROKKONOMAD in May 2021, it chose our location as its registered headquarters.
– Previously there were offices in Tokyo, Osaka, and the U.S., can you tell us how you came to consolidate your operations at this location on Rokkosan?
In the first place, since we are a digital service provider, we are not bound by the location restrictions of "it has to be here." Rather, we have always wanted to locate our base in a place where "people cannot easily visit." In other words, a place where people cannot connect with each other unless they are digitally connected. Such an environment is what a digital company should be like.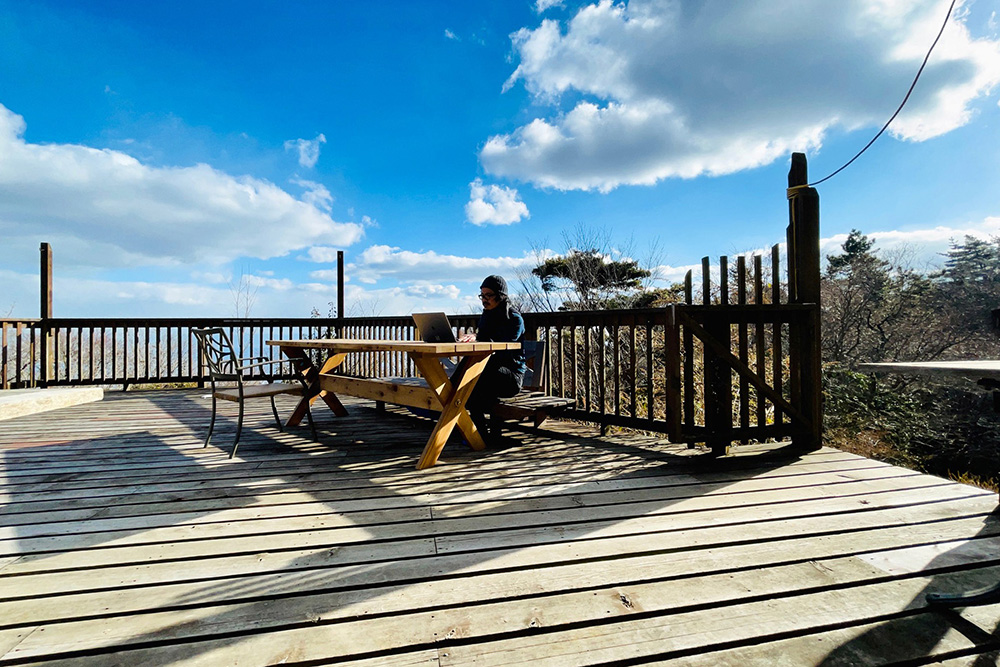 – Was this location close to the image you had in mind?
If we go through what I mentioned earlier, I think the ultimate solution would be to go completely office-less, but at the very least, we need an address to register our corporation. At that time, Kobe City told us about this place along with the Rokko Smart City Concept, and we thought it would be an ideal location for us.
We first thought that a deserted island would be nice (laughs), but as expected, that would make it difficult for mail to reach us, creating a possibility of burdening our clients. The condition was that there be a minimum infrastructure by land. This location was a line's throw from the city, at an elevation of 800-odd meters, overlooking the Osaka Plain, and with a view of the ocean. Just 30 minutes down the mountain, there is substantial commercial infrastructure. It is hard to find this type of environment.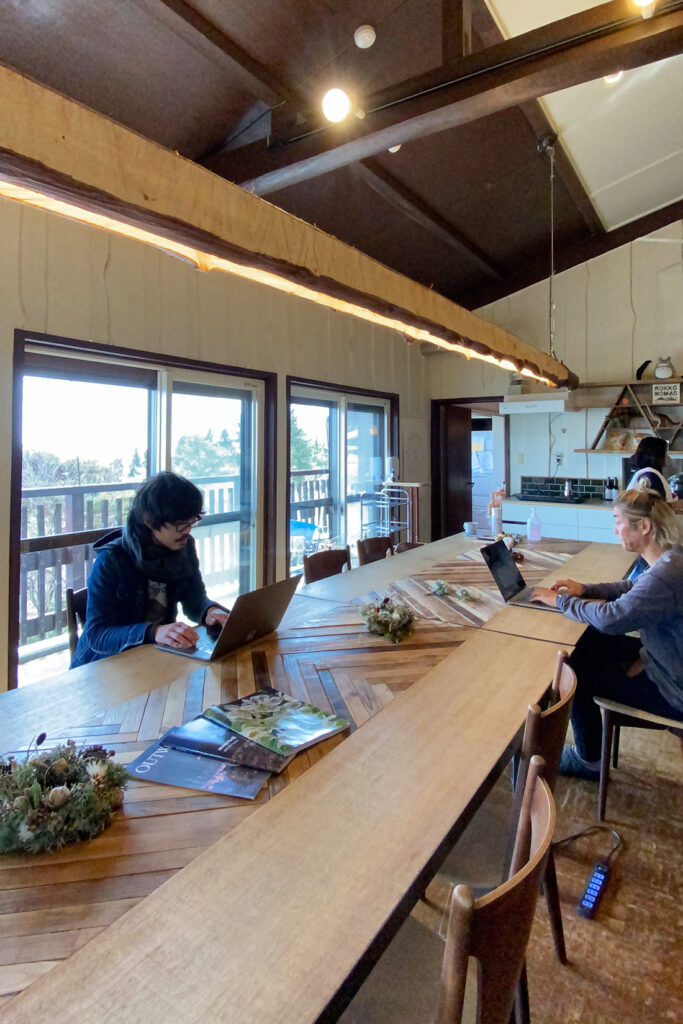 – What made you decide to move toward such a "way of office"?
In the past, it was thought that gathering a large number of employees in a spacious office and growing a company would create credibility, but we feel that we are no longer relying on such templates. In this day and age, what we really need to show is not a splendid office, but rather how much impact we can have, and how much we can contribute to society with what we create. Perhaps it is this desire to embody our commitment to that single point that drove us to choose this type of location.
Another reason is that when a company is headquartered in a large metropolitan area such as Tokyo or Osaka, it tends to hire people only within that framework, and we wanted to break that practice as well. We are now committed to hiring people from all over the world, regardless of region. We believe that it is no longer a common belief that the best people are concentrated in large cities.
– We feel that we are consistently pursuing the question of what kind of work style is best for "good product creation."
In this day and age, rather than a methodology of cramming creators and engineers into a single office, it is better to allow them to go to various places, to be exposed to various values, and to enrich their private lives as well. We think this will best lead them to demonstrate their superior conceptual ability and level of expertise at the highest level.
– I saw a job posting for your company that stated, "Our company is a holacracy* type organization." Is that also related to what you just mentioned?
*Holacracy…… is an organization with a flat structure in which there are no positions, ranks, or supervisor-subordinate relationships within the company. Responsibility is distributed to teams or individual employees, allowing each to have discretion and work independently.
What we are advocating may be slightly different from original holacracy, but at the very least, we feel that the theory that a full-fledged creator cannot do good work without being managed every step of the way is ridiculous. That is why we eliminated the pyramid structure of departments and positions several years ago. Our employees do not have positions, but they do have job titles. We ask them to give their own grades every quarter, and then we interview them and have a conversation about whether or not to raise their position.

– What are the main digital services that Snow Robin is involved in? 
We provide web applications from front-end development to back-end system construction. One example is the commissioned development of an official application for the Pacific League professional baseball team. The application, called "Pacific League Walk," links the act of watching a baseball game with a pedometer, and is an attempt to create a digital incentive to get fit. We collect behavioral data from users and store it in the cloud.
– You have said that it is important to have a good private life in order to improve the quality of your work. Have you been enjoying life since coming to ROKKONOMAD?
(Mr. Hirayama) I am actually a sea person (laughs). I go surfing two or three times a week. In the Kansai region, I go to Wakayama and Mie in the spring and fall, and to the Sea of Japan in the winter. I go to Wakasa Bay in Takahama, Fukui Prefecture. Actually, when I drive to ROKKONOMAD, I can use the Omote-Rokko Driveway to the Maizuru-Wakasa Road by going north and reaching Takahama.
(Mr. Hirooka) I usually work from home, so I come here about once a week and use a combination of my home office and this location. Just taking walks along the mountain paths on my way to and from here is a refreshing change of pace, and just the right amount of exercise.
– What else do you feel are the advantages of being at this location?
It is the best place to change your perspective, and think about things from a bird's eye view. When you spend most of your time on the computer monitor, what you see is mostly what is in front of you, like today or tomorrow. So when I want to think about medium to long-term outlooks of the business or get a bird's eye view as a manager, I have to physically take myself to a different place. I used to fly overseas for that purpose, because otherwise I couldn't change my mind. Now I can just drive 30 minutes to the top of the mountain and do that, which is a big help. 
The other thing is that even though we are in such a remote area (laughs), we can meet creative and motivated people who more than make up for the inconvenience. Until now, "going to work = doing work," but once that assumption is removed, people are inevitably more voluntarily and actively participating. People who come to ROKKONOMAD are not coming with the intention of going to work; they are all very active, whether it is a proactive change of pace or they are thinking about business in the medium to long term. Every time I come here, I think they are all very active.
(Column written by Yohei Yasuda)