NEWS&COLUMN
Introducing news and columns from ROKKONOMAD
2022.01.13
"This rock is the only one of its kind in the world. That's why it's fun!" – Yohei Naruse – Climbing School
ACTIVITIES / REPORTS
From December 9-12, Yohei Naruse, who was staying at ROKKONOMAD held a rock climbing school!(Click here for an introduction about Yohei Naruse)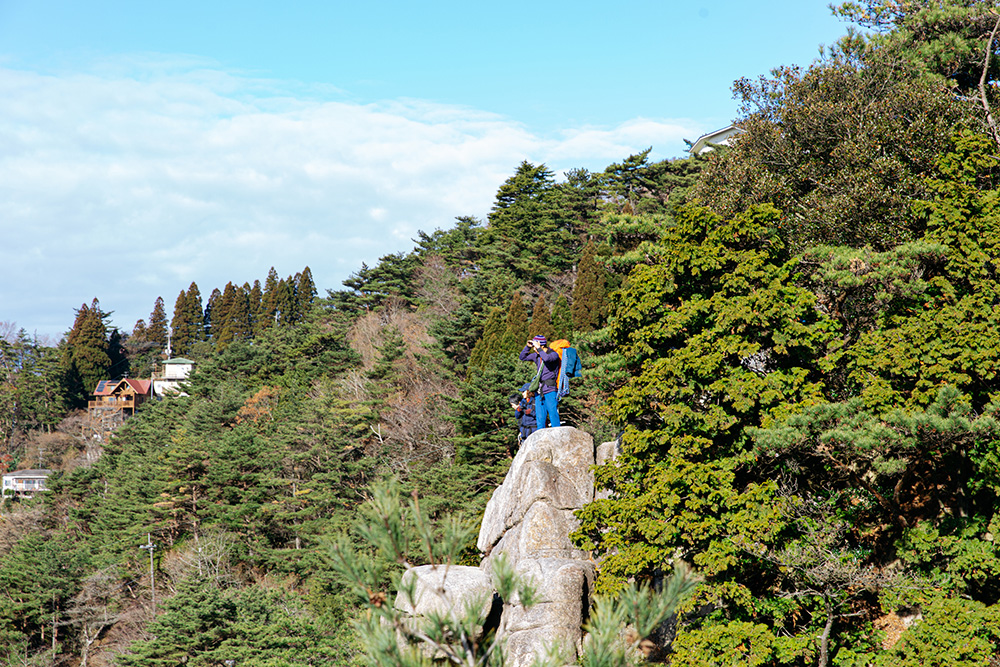 Writer, illustrator, and climbing instructor. During his two-week stay at ROKKONOMAD, the multi-faceted Yohei Naruse gave us a climbing school on the crags of Rokkosan. The climbing school took place at Eboshiiwa (Dojo-machi, Kita-ku) on the backside of Rokkosan and Horui-iwa.
This time, I had the pleasure of accompanying the school at Horui-iwa. Horui-iwa is located right next to the top Rokko Cable Station, and it takes about 10 minutes to reach the entrance. From ROKKONOMAD, it's about a 20-minute walk.
The rocks here are a little spicy.
Along with the Ashiya Rock Garden, Horui-iwa is one of the oldest crags in Japan where climbing has been done. It is said that climbing started here in the Taisho era (1912-1926). There are three areas: East Ridge, Central Ridge and West Ridge.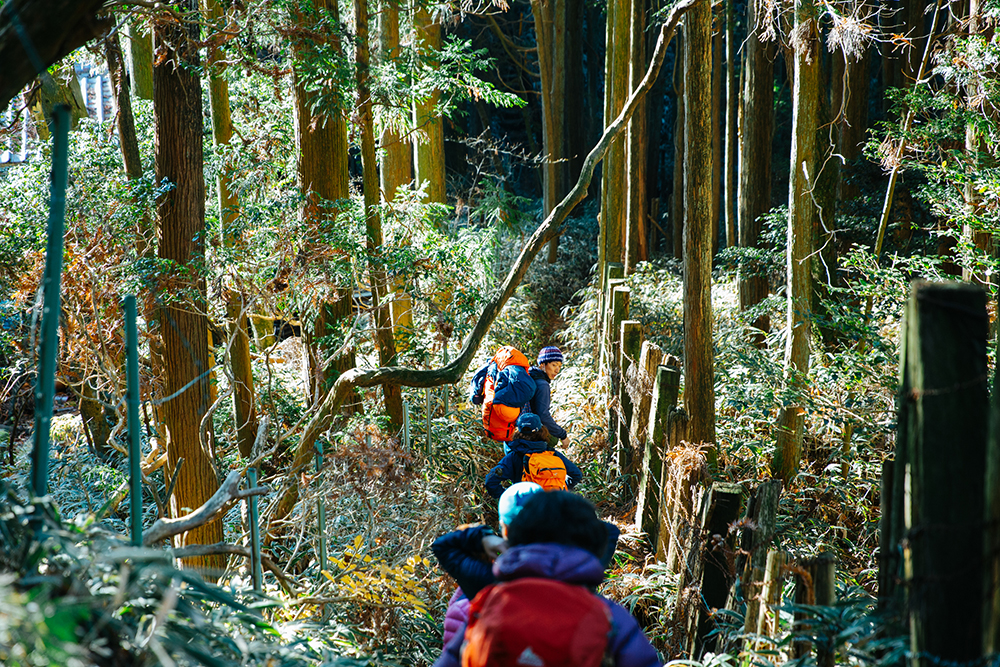 We quickly reached the top of the central ridge. From there, we descend about 60 meters. 
The participants of this year's school came from various areas such as Tokyo, Kanagawa, Gifu, and Osaka. It was their first time to climb in the mountains of Kobe.
The rock here is a little 'spicy'," "Yes, it is." After setting up at the rock, everyone tried climbing it once and exchanged their impressions. Today's route was 5.6 (Five Six), our first time on Horui-iwa Rock. Climbing rocks are graded according to global standards, and 5.6 is said to be difficult enough for first-time climbers to climb. However, when you actually climb it, the rock has some quirks that makes it a bit difficult to climb for a 5.6, which is why the word "spicy" was used to describe it.
The easy grades are 5.3, 5.4, 5.5, 5.6, 5.7, 5.8……, and then 5.10 (Five Ten) and above, 5.10a, 5.10b, 5.10c, 5.10d, 5.11a, 5.11b. At the moment, the most difficult rock climbing grade in the world is 5.15c (Five Fifteen C). Among climbers, there is a booklet with data about climbing spots all over the world and what the grade is if you climb from this route. So we can check the route and grade before climbing Horui-iwa. By the way, most of the routes on the barrier rock are 5.10 or lower, with the occasional 5.11, making it a relatively gentle crag.
We'll work in pairs.
At the rock, climbers and belayers climbed in pairs.
"Belaying" is the use of a rope to secure a climber. The belayer is the person who holds the rope below the climber.
"If you wear a harness (an item worn around the waist to connect your body to the rope) and pair up with a belayer, you won't feel so scared. It's important to have a trusting relationship with your belayer," says Naruse.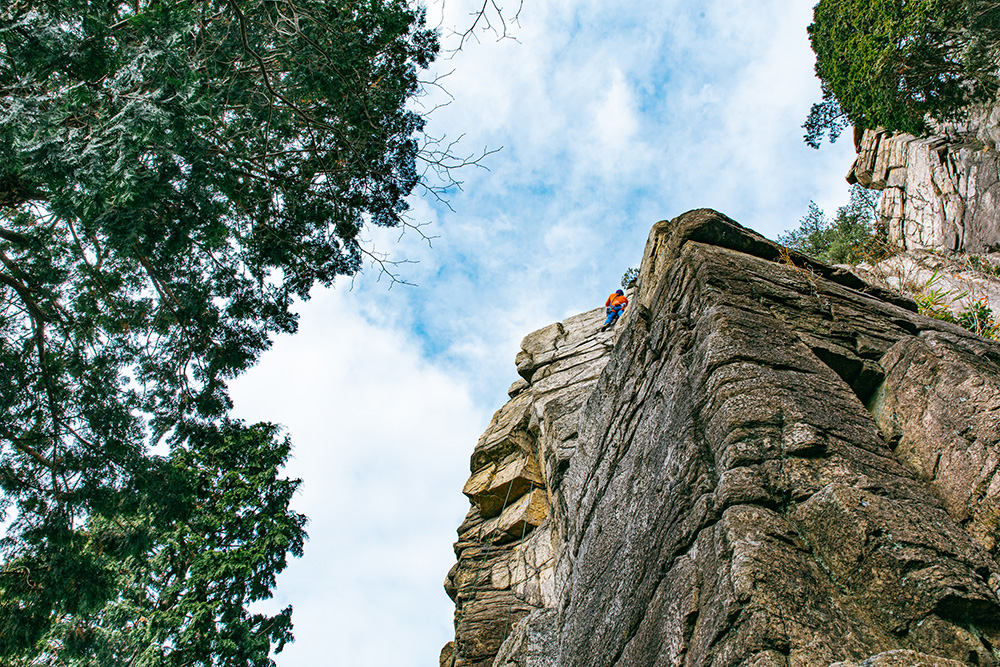 We were blessed with warm weather conditions with little wind and sunshine even though it was early December. "It was a good day for climbing because when it's cold, the rock gets cold and your fingers get numb. Besides, climbing is a sport where you spend a lot of time resting." So I asked if he prefers the weather to be cold? "It's hard to say. The fingers don't sweat as much when it's cold, and the rock is often drier and in better condition, so when I'm attempting a difficult route, I sometimes choose temperatures that are between snow and ice. In such cases, I put a pocket warmer in my chalk bag to keep my fingertips warm."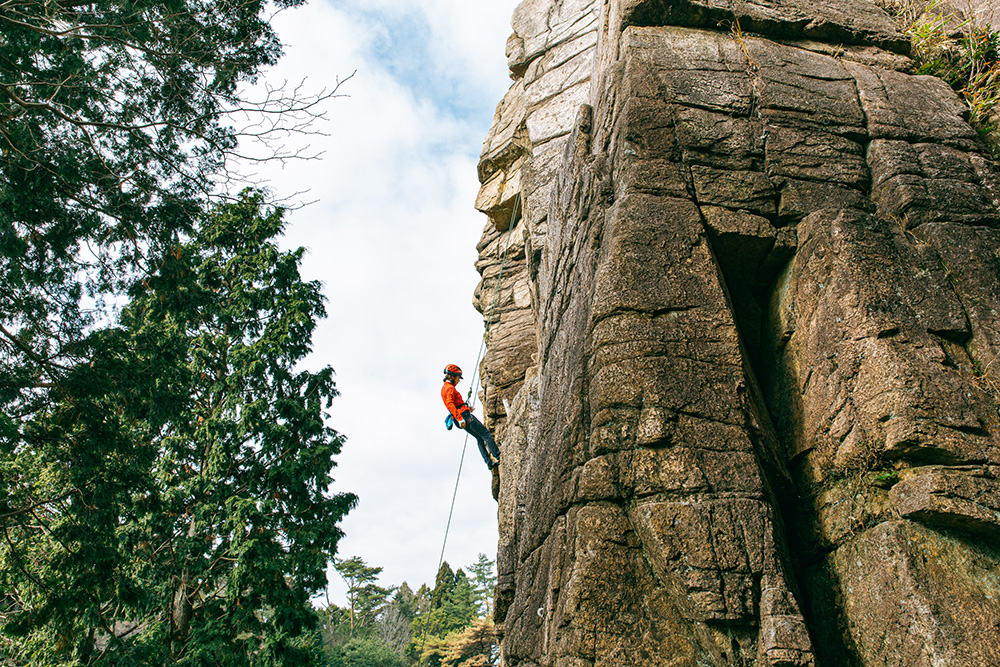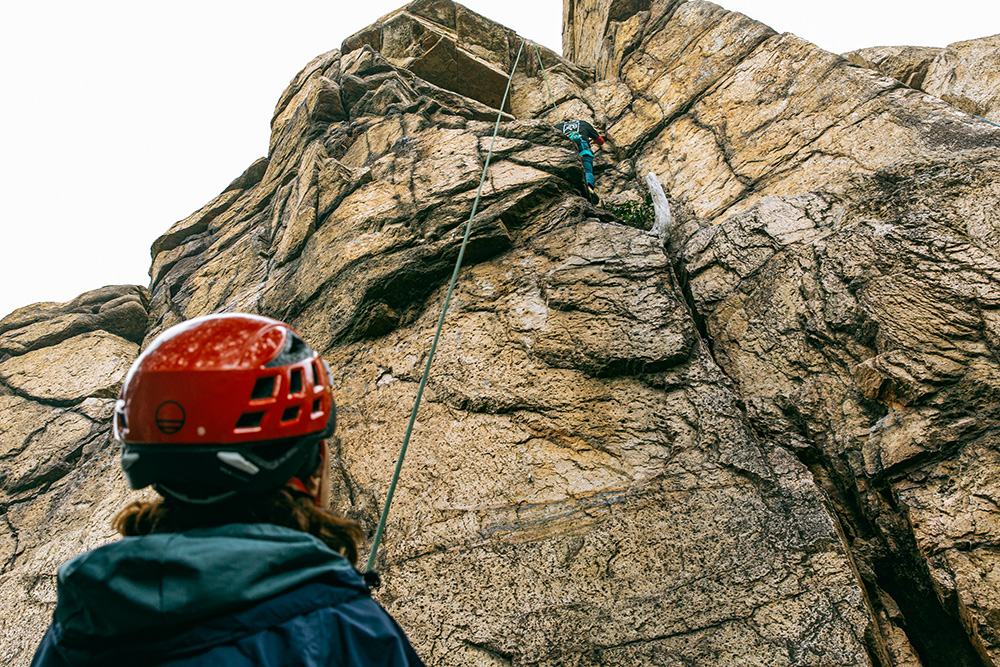 A lot of respect for his predecessors
Mr. Naruse also climbed the barrier rock for the first time during his stay, and his impression was that there are not many bolts on the route, and although there are harkens (metal wedges that are driven into cracks in the rock wall), most of them are quite old. I was told that it would be a little difficult to go up there with only a beginner. In that sense, Eboshi-Iwa (Dojo-machi, Kita-ku, Kobe City) is better maintained, so even beginners can feel safe climbing it once they have roped in from the top.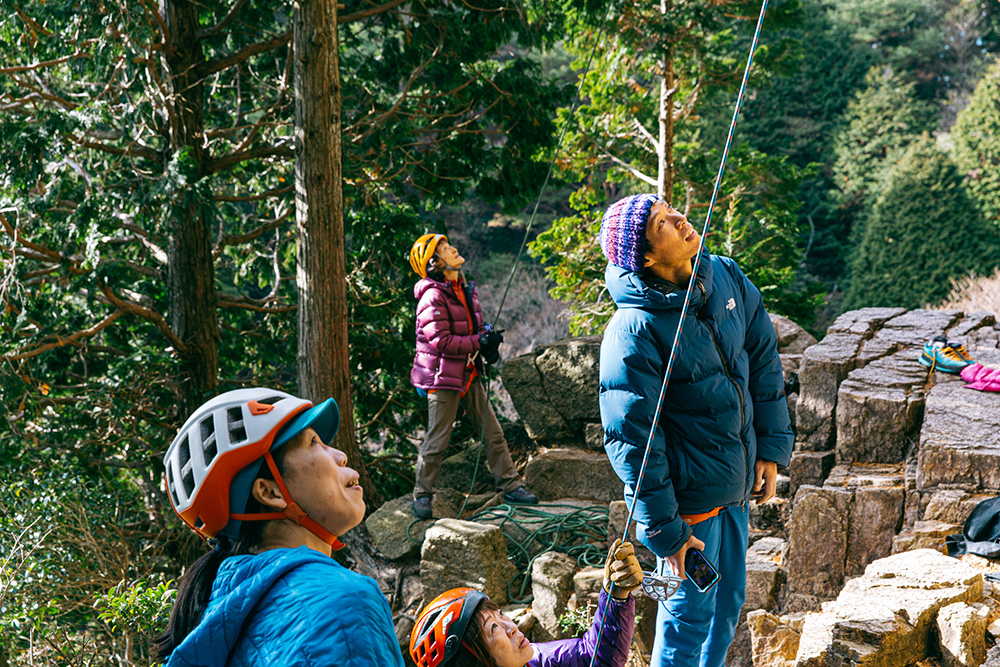 "But that doesn't mean that I should just put in new bolts. If a climber unnecessarily bolts for his own convenience, he is to be blamed for his actions. 'Basically, in our world, it is common sense to ask for permission from the first climber (the person who climbed the rock for the first time) when making a new bolt.' You have to pay respect to the person who first discovered the rock, cleaned it, and climbed it in a deadly adventure that could have killed him or her."
The first ascent of Horui-iwa was in the Taisho era. At present, the people of the Kansai Crag Maintenance Committee have been discussing with each other about replacing the bolts to the minimum necessary.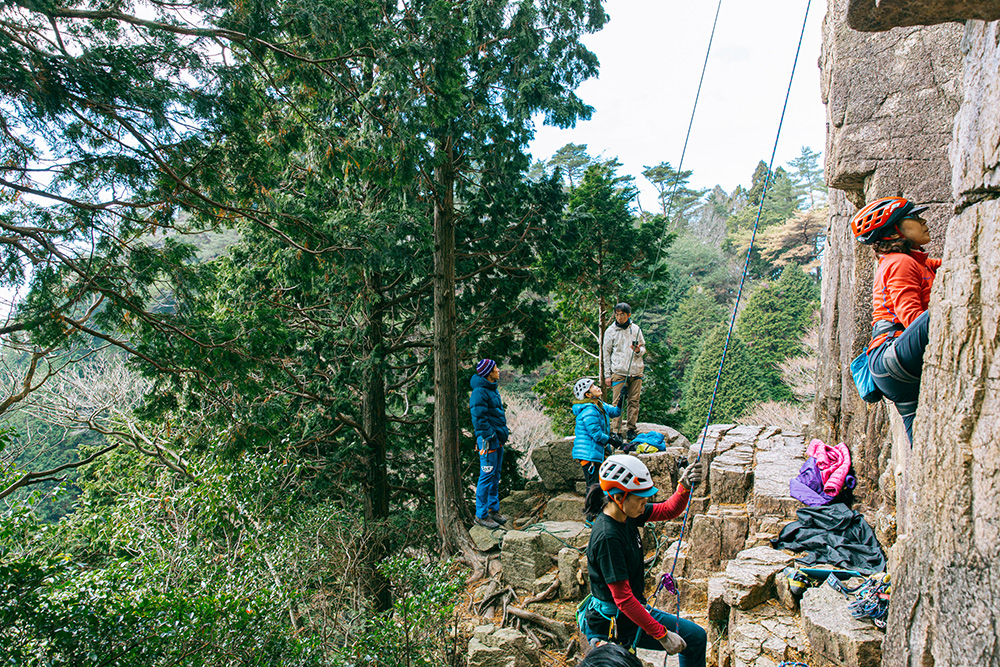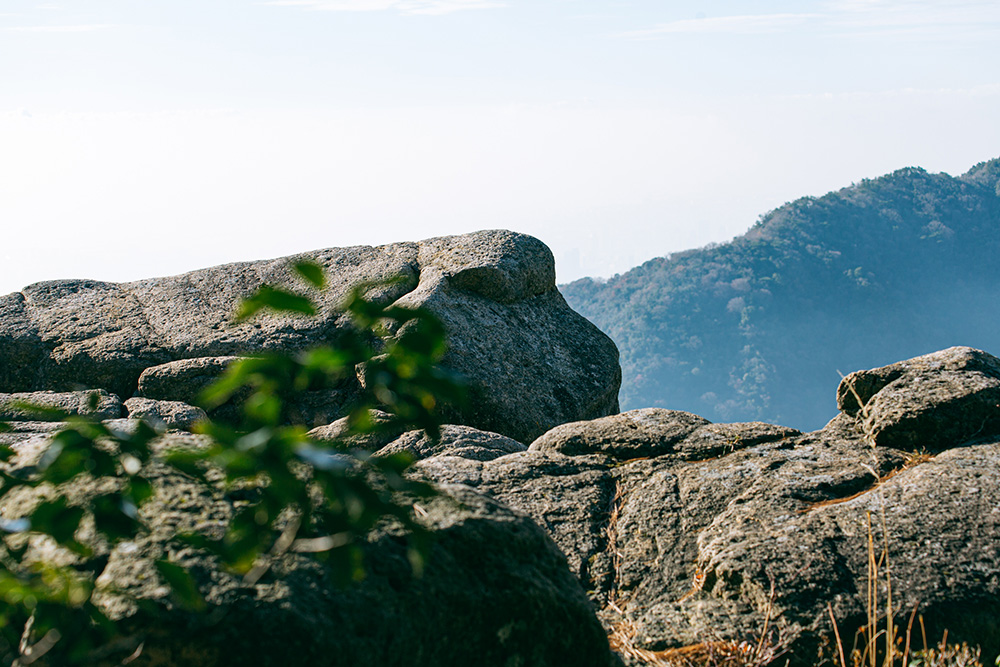 To ensure that he can continue to enjoy
Naruse is certified as a free climbing instructor by the Japan Mountain Guides Association. As an instructor, I try to teach people how to climb alone, but at the same time, I try to teach them how to approach and think about climbing. If the number of climbers increases without this, the rocks will become a mess. This rock is the only one in the world. It is important to take care of the local rocks so that we can all continue to enjoy them.
Although there are more and more bouldering gyms in the city nowadays, it is perfectly fine to start climbing on natural rocks if you have never been to a man-made gym before. However, artificial walls are effective for practicing climbing moves, and you will improve much faster if you go to them.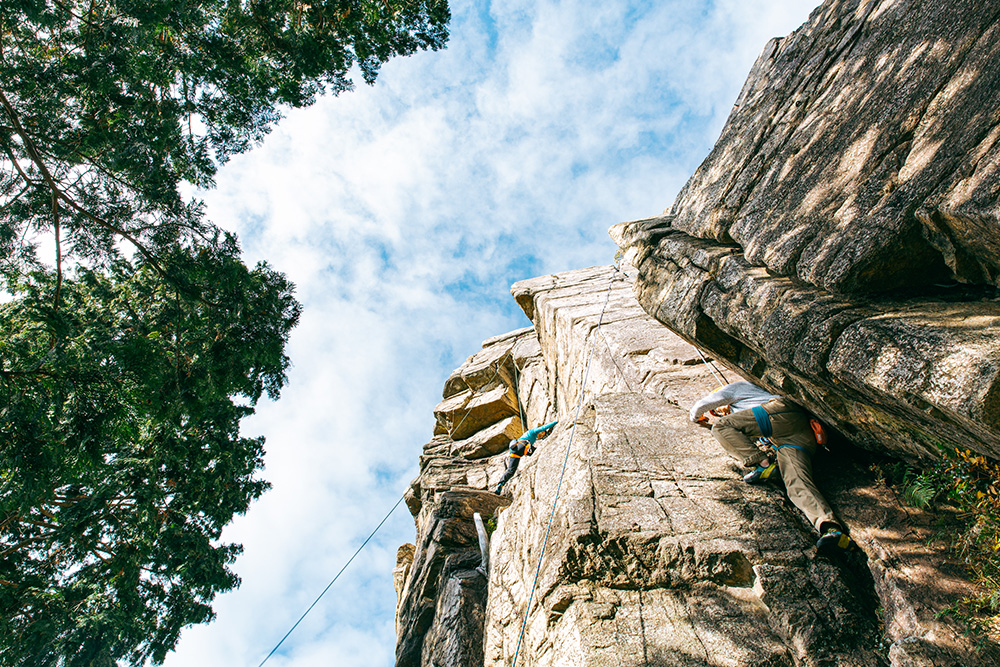 I also had the opportunity to try rock climbing for the first time in my life at Horui-iwa, and I felt that it's not impossible to challenge yourself if you have a reliable instructor and friends to go with you. Of course, ropes, harnesses, and helmets are a must, and it goes without saying that you must be safety conscious.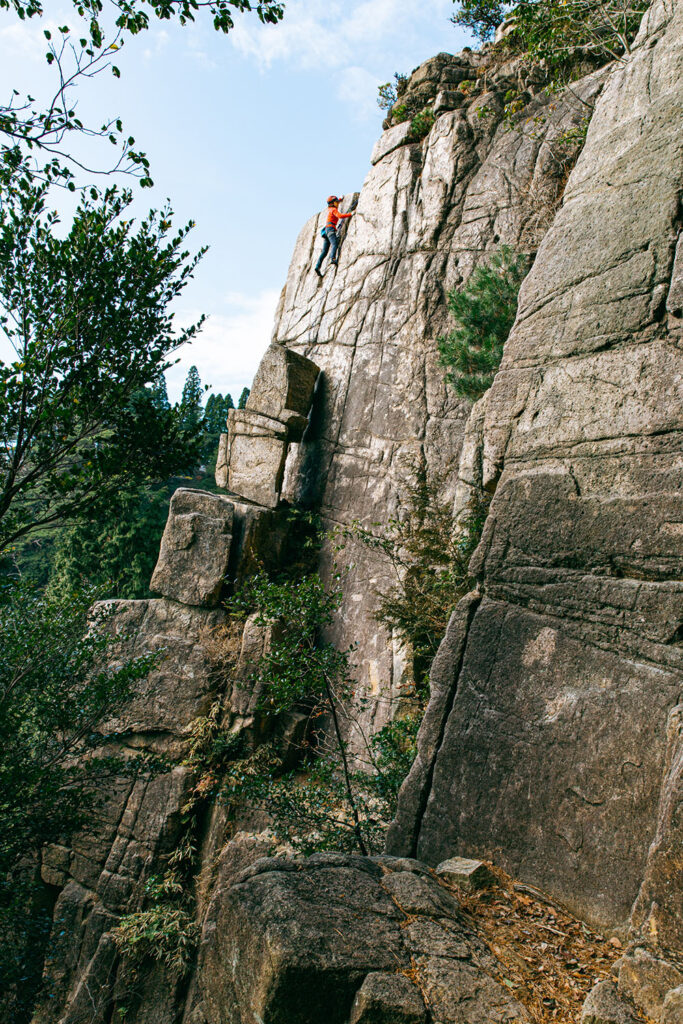 "There are various grades of routes, so you can enjoy this sport for the rest of your life if you do it according to your level and age. For example, there are a lot of people who start when they are middle-aged or older."
Climbing + Short Trip
"Like me, I recommend combining travel with climbing. Climbing is a great way to travel to places you don't know, and it's a pleasure to experience the local culture and delicious foods along with climbing."
Mr. Naruse returned to his usual base in Nakatsugawa City, Gifu Prefecture, after completing the five-day school, but there are excellent climbing instructors in Kobe as well. We met up with the instructor at 6:00 a.m. and enjoyed climbing rocks from 8:30. Then went to work. I heard that there are people in Kobe who enjoy climbing like that.
-Attention.
As I mentioned in the text, there is nothing to be afraid of if you go with a guide after ensuring your safety, but it is still a dangerous place to go if you are just curious. In fact, there have been reports of fatal accidents due to slips and falls. Do not be a nuisance to other climbers. Please be prepared and do so at your own risk.
(Column written by Yohei Yasuda Photographed by Iku Fujita)