NEWS&COLUMN
Introducing news and columns from ROKKONOMAD
2022.01.13
Series: Mountains and Work Vol.4 Yohei Naruse "Being comfortable connected to the mountains, town, people, and rocks"
COLUMN / MOUNTAIN and WORK
This is the fourth in a series of articles about the relationship between mountains and work, based on conversations with people who have stayed at ROKKONOMAD. This time, it's Yohei Naruse, a writer, illustrator, and climbing instructor, who stayed with us for two weeks to work on his projects and give lectures.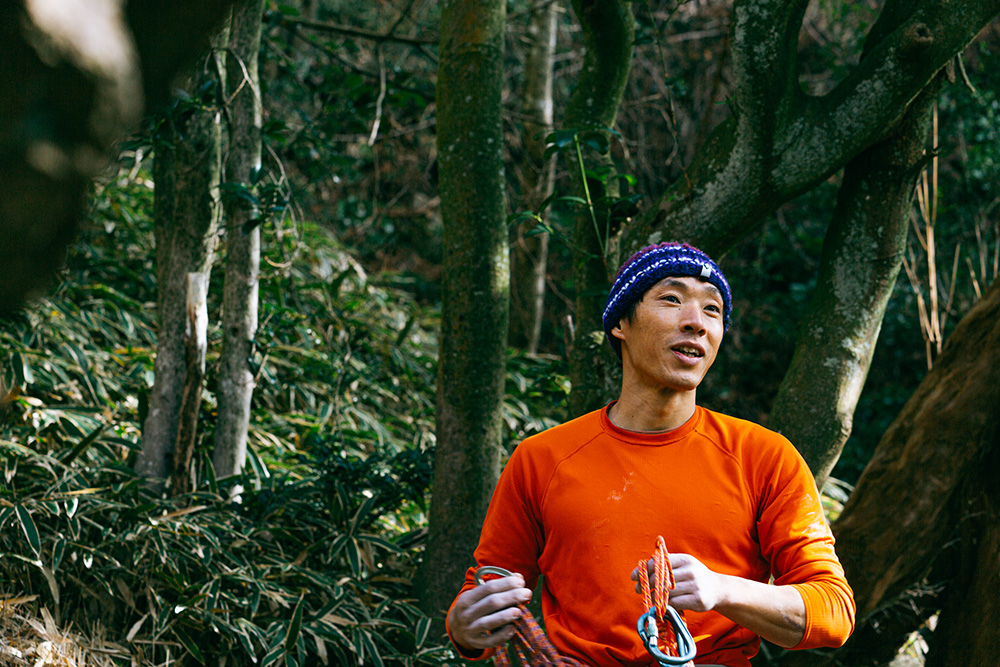 Naruse writes articles, paints watercolors about the mountains for magazines, and also works as a rock climbing, a sport which he has been familiar with since junior high school. He usually lives and works in Nakatsugawa City, Gifu Prefecture, where he was born and raised, but this time he stayed at ROKKONOMAD for two weeks to plan and implement a climbing school on the mountain. In between planning and running the school, he spent time writing about his experiences here for a mountaineering magazine and drew pictures of the scenery from the crags of Rokkosan.
It is impossible to understand the closeness of the mountain and the city until you come here.
–When you are at your base in Gifu Prefecture, how do you balance climbing with your other work?
There is a climbing spot near my house, so I sometimes finish my writing and other work in the morning and go climbing in the afternoon. Sometimes I climb seven days a week. I also do some maintenance work at a local spot.
–I heard that this is your first time going rock climbing in Kobe.
Yes, it is. But when I got my certification as a climbing instructor, my instructor was a mountain guide living in Kobe. He showed me around the area and told me about the history of climbing in Rokko.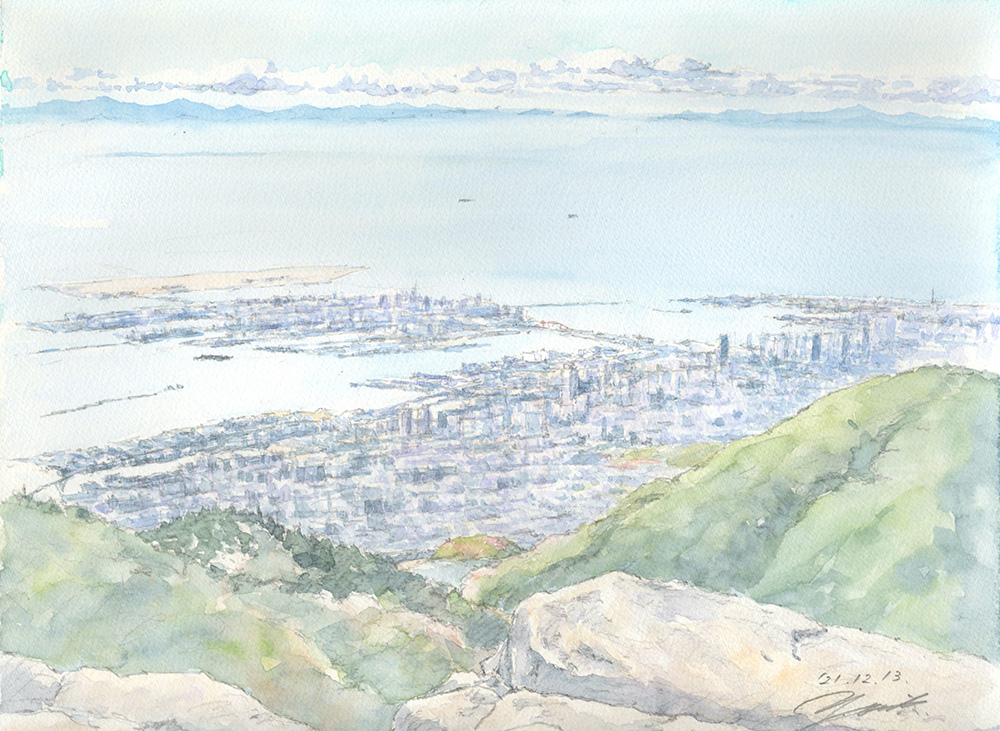 –How do you feel about Kobe?
I've been to a lot of places through climbing, but I was most surprised by the proximity of mountains and crags in a city of this size. In other countries, there are cities where the outdoors is close to the city, but I don't think there is any other city in Japan that has such a balance. I also didn't know about the trekking culture unique to this region called "daily mountain climbing" (*). There are also many interesting places to visit when you come to town.

*Daily mountain climbing" …… is the custom of climbing low mountains in one's neighborhood on a daily basis for health purposes. It was started by foreigners living in Kobe during the Meiji era (1868-1912) and took root among the local people.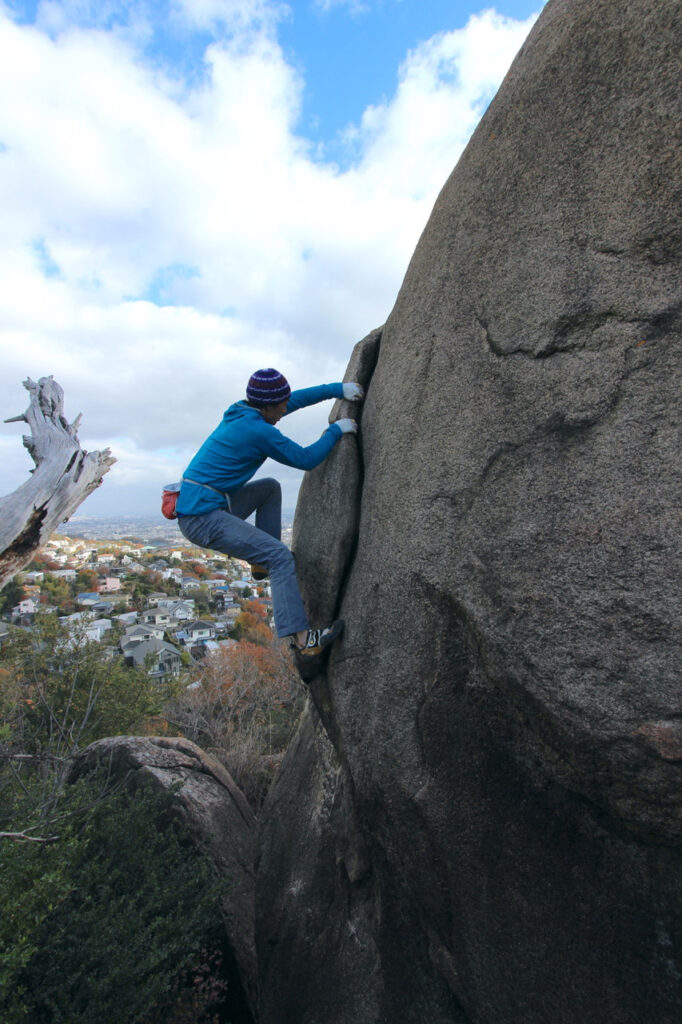 Climbing is a great way to refresh your mind.
–During his stay, he also held a climbing school (click here for a detailed report on the school), and we got the impression that he climbed on the rocks every day while preparing for the school. Wondering what it feels like to have climbing in your daily life.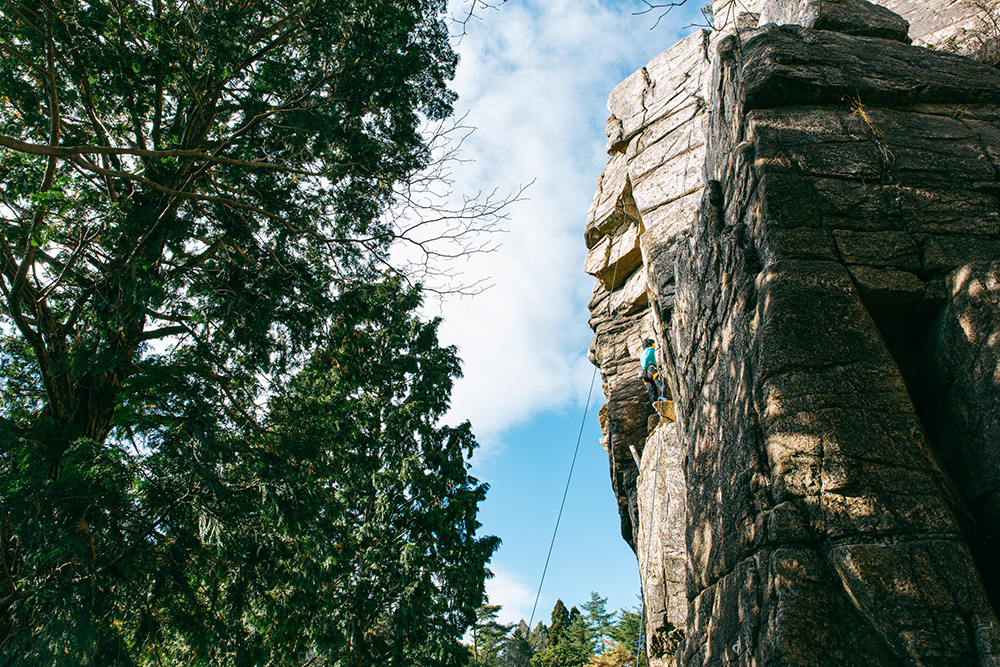 No matter what I'm doing, I'm always worrying about work and what I'm going to do in the future, but when I'm climbing, my mind is focused on one thing: how to climb the route, and I'm able to let go of a lot of things. When I finish climbing and head back home, I think of all the things I have to do, such as returning emails or when I have to finish that work by. I think it's a great feeling to be able to switch things off for a while.
–In contrast to office workers, who tend to only get information from their eyes without moving their bodies, it seems that climbing allows one to receive a lot of input to the entire body.。
That's right. First of all, you have to get a sense of the rock with your hands and toes, but depending on the location, it may be as little as a few millimeters, and if you shift, you may not be able to hold it anymore, and you may fall. It's a lot of work.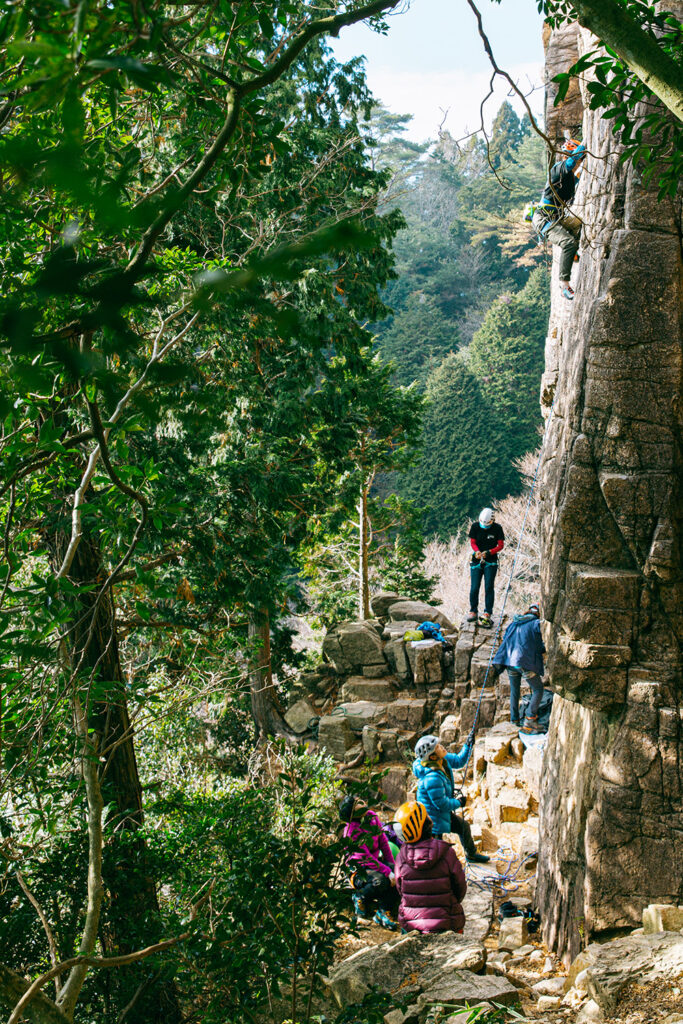 Natural conditions also play a big role. The climatic conditions such as humidity and temperature of the day, the dryness of the rock surface and the strength of the wind also affect things.
Of course, the condition of your own body has a lot to do with it. You may have aches and pains, you may not have stretched enough, or you may have eaten too much yesterday. These factors also have a strong influence.
We have to mobilize our brain, sense of touch, motor skills, and at the same time take into account the various natural conditions. That's why it's so interesting, and even in a short time, you can spend a lot of time concentrating.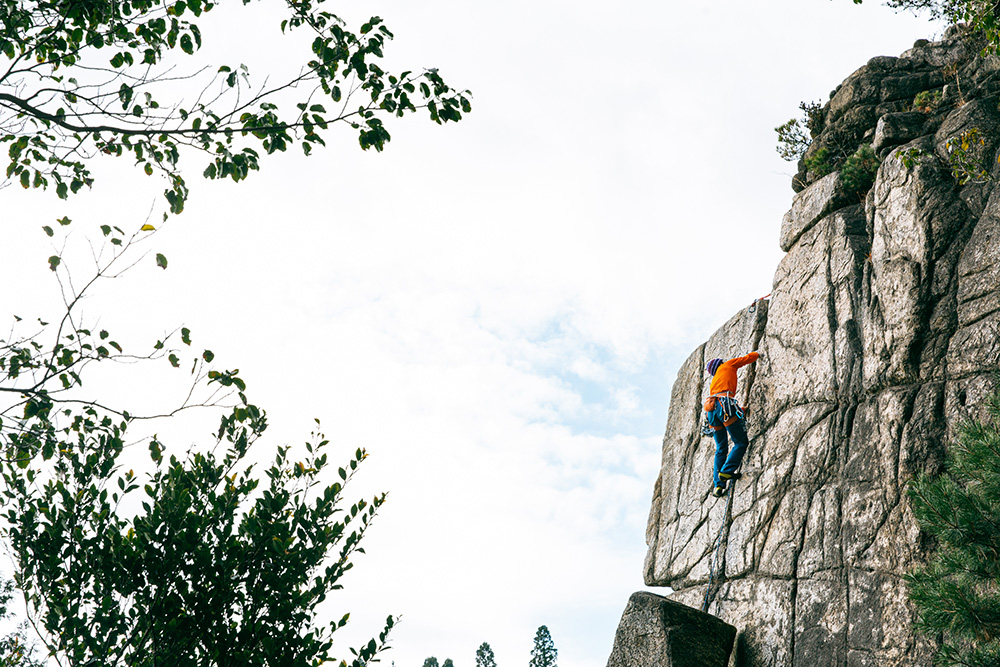 –There is a preconceived impression that it looks difficult ……, but is there an area where anyone can try, even if they have no rock climbing experience?
Yes, there are! Climbing is a sport that can be played by people of all ages and genders, as long as they do not choose difficult routes. In fact, one of the participants in the school we held in Rokko started climbing in his late 50s and is now in his mid 60s. In Gifu, I also offer climbing lessons for kids.
Mt. Rokko was the first place in Japan where rock climbing was done, and in fact, there are so many rocks that I hope people will incorporate it into their daily lives.
–This time, we held the school at the Horui-iwa, which is about a 20-minute walk from ROKKONOMAD (less than a 10-minute walk from the cable station on the mountain). Could beginners do that too?
Horui-iwa is actually a climbing spot that has many gentle routes and actually not many difficult ones. Of course, safety is a must, but I think someone could do it if they have equipment such as a helmet, shoes, harness, rope, etc. and go with a qualified instructor.
(Editor's Warning: It is not recommended for inexperienced people to go alone or just out of curiosity and without equipment.)
After all, it's so close that you can spend half a day there and still be able to work before or after.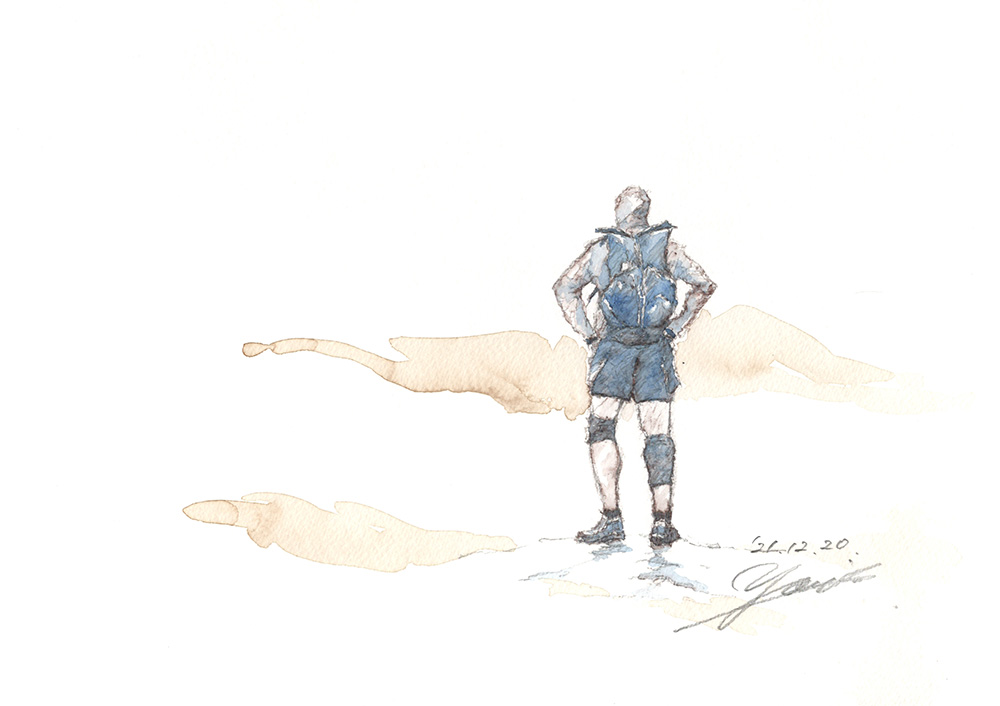 Meeting a diverse range of people in both the mountains and the city.
–How do you feel after your two-week stay at ROKKONOMAD?
By participating in the Work-in-Residence program, I was able to spend time here as a resident instead of just traveling for a few days. 
When I went to ROKKONOMAD, I was able to meet people from all walks of life, and when I went down to the city, I was able to meet interesting people there as well. I feel that I was able to gain a lot of experience that will be very useful when I return to my home base.
Related Articles:
–Climbing School Report
–Mr. Naruse's article about his stay at ROKKONOMAD is now available on the web version of the mountaineering magazine "PEAKS".

Yohei Naruse Profile
Born in Gifu Prefecture in 1982. He is a writer and illustrator active in mountain magazines such as PEAKS and Gakujin, and travel lifestyle magazines such as PAPERSKY. He is also a certified sport climbing instructor by the Japan Mountain Guides Association, and conducts free climbing courses and workshops at crags around Japan.
Yohei Naruse Website  
Yohei Naruse Instagram
(Column written by Yohei Yasuda Photographed by Iku Fujita [except for photos marked with *])