2021.03.05
【March 12 & March 19, 2021】Briefing session on Work In Residence where you can stay on Mt. Rokko for 2-4 weeks
NEWS
Would you like to have a long-term stay in the forest on Mt. Rokko?
At ROKKONOMAD, there are rooms where you can stay for long periods of time, from two to four weeks. Surrounded by the forest of Mt. Rokko, listen to the birds chirping, watch the clouds drift by, and concentrate on your work or creative activities in an environment surrounded by the forest. Of course, you can work at a desk comfortably with high-speed fiber-optic internet access, a copy machine, and other amenities, or create things in the shared onsite studio.
(We are planning to start a long-term residency program called "Work In Residence" at ROKKONOMAD around June 2021.)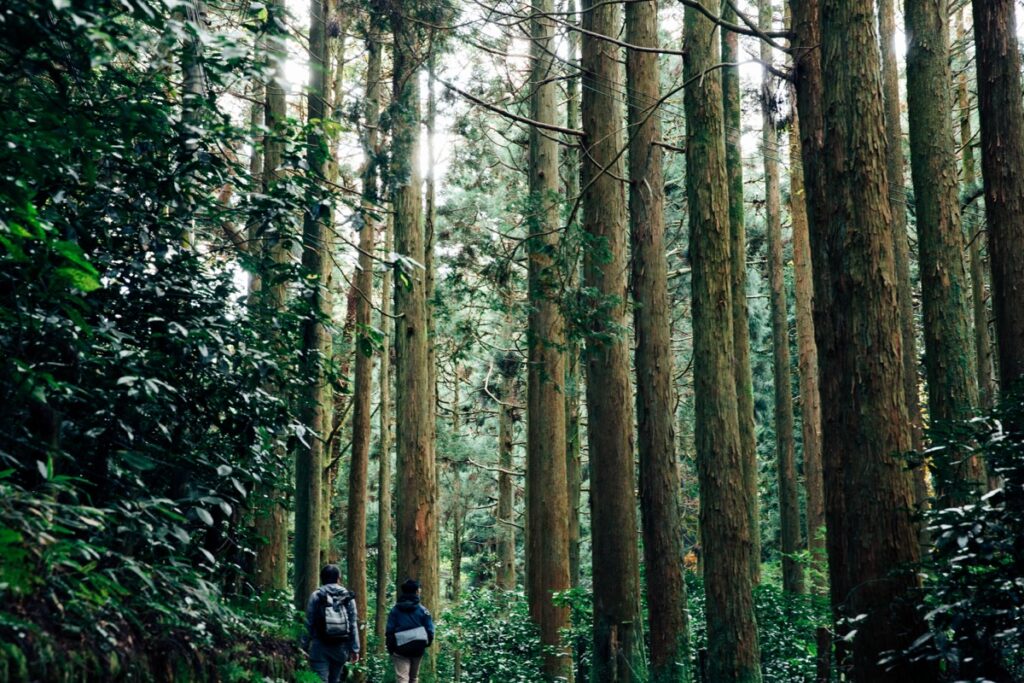 There are two programs: Workcation and FELLOWSHIP.
When you want to concentrate on something by yourself, such as assembling a plan, completing a project, or production activities we have the perfect place. Actually, it might even be better to see the place as an opportunity to work and create in nature in a more comfortable way with advantages to better mental and physical health.
During your stay, you can freely use ROKKONOMAD's work space, phone booth, lounge for chatting, and outdoor areas. When you open the door, you'll find yourself in the middle of nature. You may want to start your day off with a walk in the mountains. Though the showers and kitchens are shared, private bedrooms are available.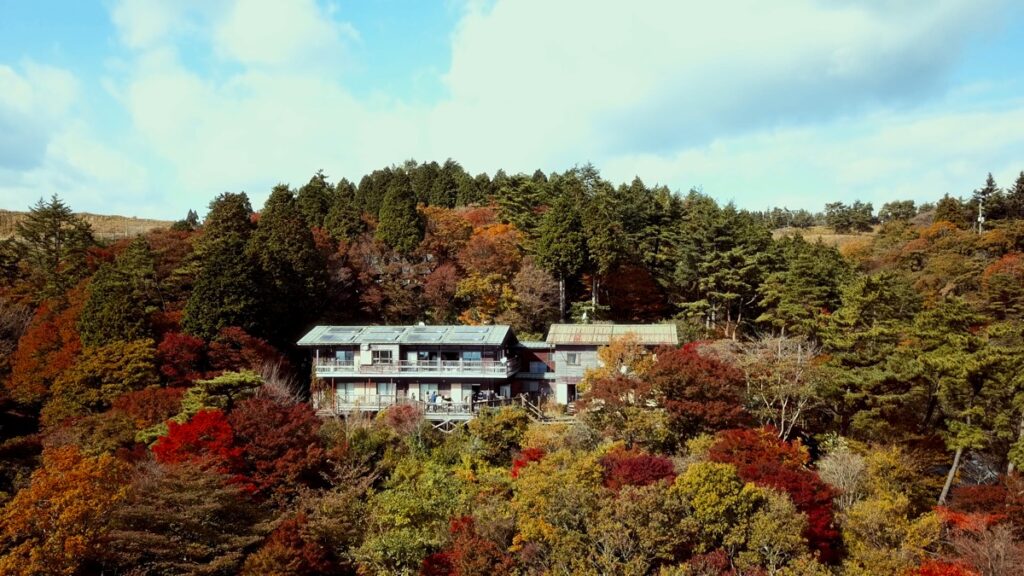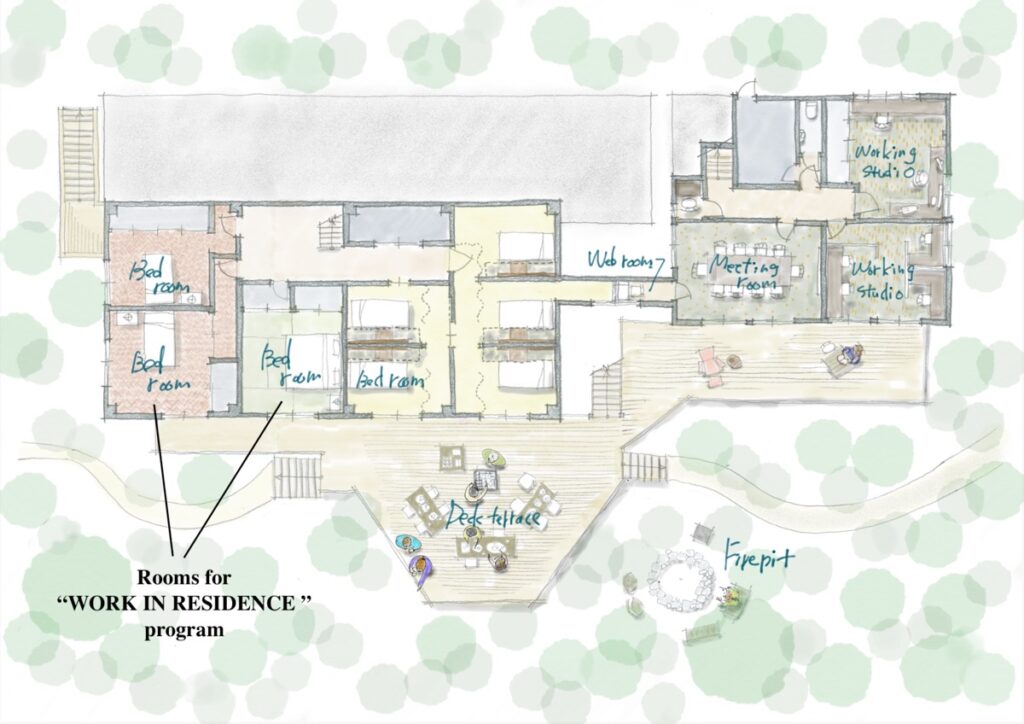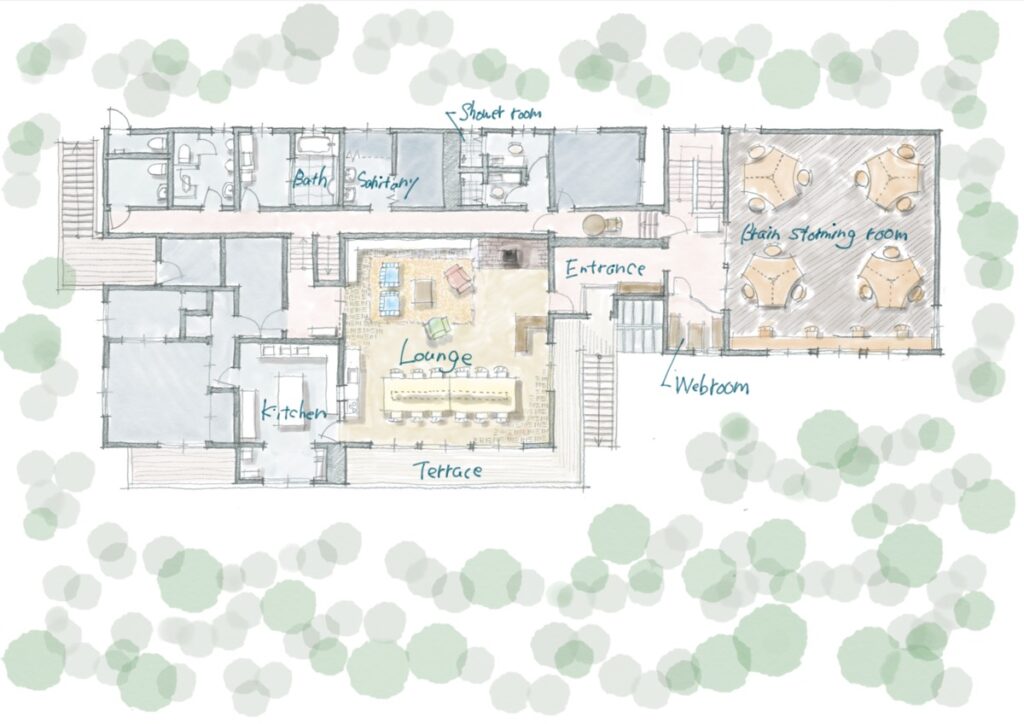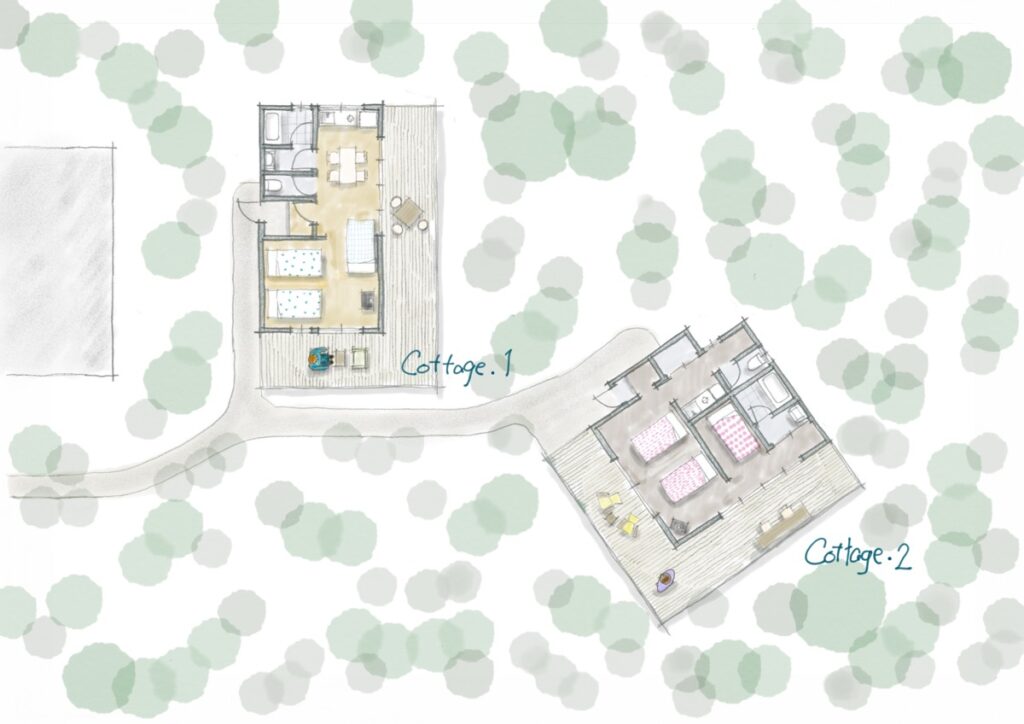 FELLOWSHIP – Fellowship Program
The FELLOWSHIP is a program for novelists, poets, playwrights, translators, photographers, architects, filmmakers, sculptors and others who want to work in the woods of Mt. Rokko. All the facilities you need to cozy up, including a shared studio, a kitchen where you can cook freely, and a living room where you can relax. If you get stuck, just take a walk in the mountains or ride a bicycle for a change of pace. ROKKONOMAD also has a resident manager to support you during your stay, and house artists with whom you can freely talk about your production ideas. More details will be explained at the information session.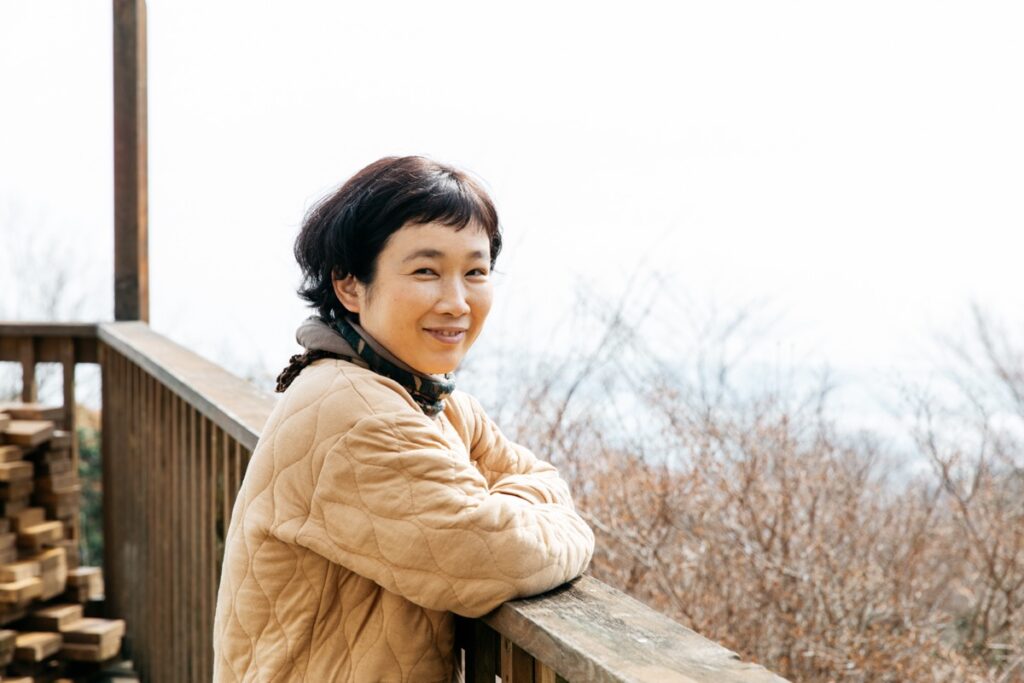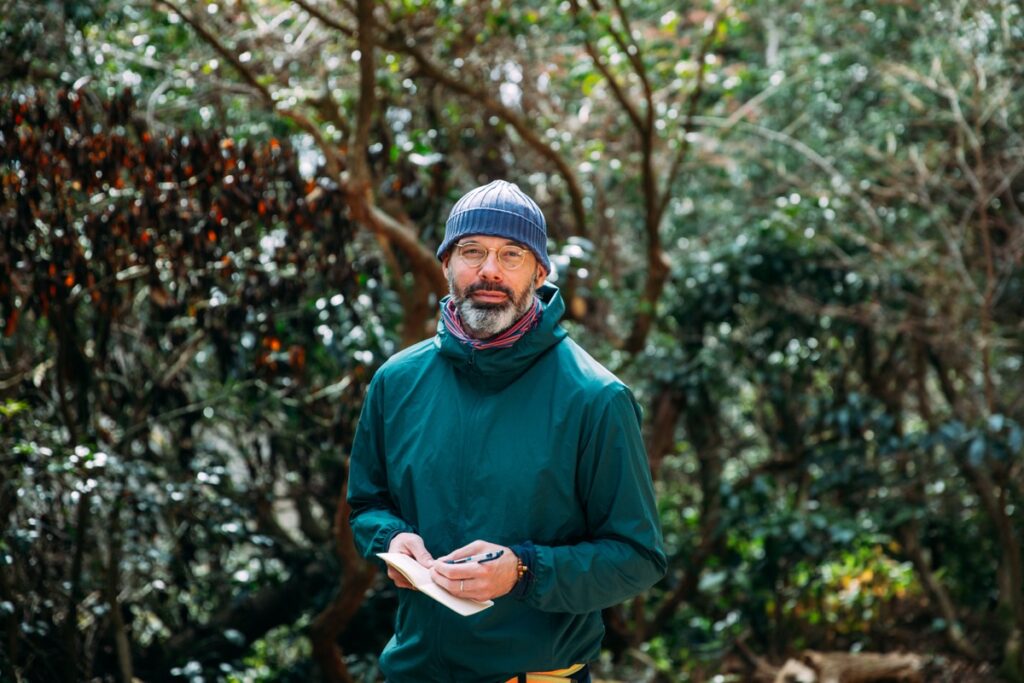 Online information sessions will be held on March 12 (in Japanese) and March 19 (in English).
To start the Work In Residence program, we will hold online information sessions on how to apply and what to expect during your stay. (Advance reservation required)
Click here to apply for a briefing session.
At the briefing, the staff will explain the Work In Residence program, FELLOWSHIP, and ROKKONOMAD membership application process. There will also be time for questions and answers.
If you are interested in ROKKONOMAD, we recommend that you attend this event.
March 12, 2021 19:00 – 19:30 Information Session ONLINE (Japanese)
        19:30 – 20:00 Question and Answer
March 19, 2021 19:00 – 19:30 Information Session ONLINE ( English )
        19:30 – 20:00 Question and Answer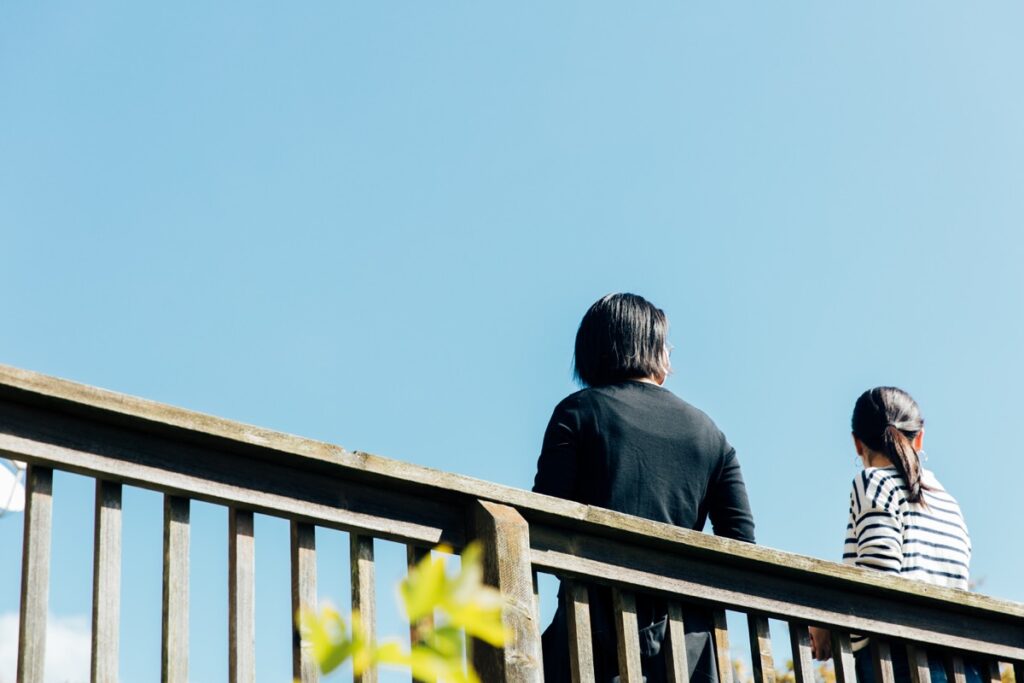 Work In Residence Program Details
"Work-in-Residence" is a program that allows creative people to stay for an extended period of time.
Residency Program Fees
2 weeks – Private room 60,000 yen/person
4 weeks – Private room 100,000 yen/person
Prices do not include tax.
For shared bedrooms (2 weeks: 35,000 yen/person, 4 weeks: 55,000 yen/person)
Facilities
Bath and Toilet: Shared
Kitchen: Shared (you can cook with ingredients you bring)
Workspace available
Shared Studio: Yes
Fiber Optic Internet: Yes
Period of Use
From June 2021
You do not need to be a member of ROKKONOMAD to apply.
If you are not a member, you will be screened only at the first session.
Application → Document Review → Interview → Confirmation.
During your stay, you are free to spend your time on Mt. Rokko.
Application Process
Participate in a briefing session
Apply (specify the date and time you wish to stay)
Document Review
Interview
Confirmation
If you are applying for Work In Residence – FELLOWSHIP-, you will need to submit a separate document. This will be explained at the briefing session.
Click here to apply for a briefing session.